Cheers! A Guide to the Local and Craft Beer Scene in Charlotte
Local beer is the toast of the town right now, and the craze shows no signs of slowing. Can the Queen City become Craft Beer City?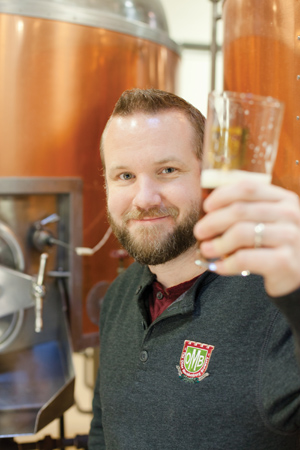 Charlotte is in the midst of an identity crisis. Not so much in the mold of Clark Kent vs. Superman, but rather, what is the city known for?
Food? Hardly. Despite a number of stellar restaurants, no one discusses Charlotte's cuisine like that of, say, New Orleans or San Francisco or Charleston. (And before you start asking about barbecue, that's a statewide thing.)
Banking? Um, remember 2008? The moniker "Banktown" has lost its luster.
Racing? Sure, "racing was born here," as the marketers like to say. But Charlotte Motor Speedway recently eliminated 10,000 seats from its grandstands. And perhaps you've read about the troubles at the NASCAR Hall of Fame. Or, put another way, have you been yet?
So, then. Care for a beer?
No, really. In the past five years, Charlotte's craft-beer scene has taken off. Seven new breweries have opened, as well as a host of new bottle shops and taphouses. Walk into any restaurant and you're almost sure to find local beer on draft. Nearly every day, there's something going on in the local beer community, whether it's a tasting, bottle release, or some other event.
And the beer brewed here? It's good. Last year, Olde Mecklenburg Brewery and NoDa Brewing Company became the first Charlotte breweries in 20 years to medal (both silver) at the Great American Beer Festival in Denver, which is the country's largest ticketed beer festival and has held its annual tasting contest since 1982.
"If I tell you 15 years from now that Charlotte has a clear identity, what's more likely than beer?" says Ryan Self, director of sales at Olde Mecklenburg Brewery. "Given the quality of beer here, it's a more likely option than anything else."
Adds Win Bassett, executive director of the North Carolina Brewers Guild in Raleigh, "Up here in the Triangle, we want as much Charlotte beer as we can get."
Well then. That calls for a beer.
It's a Thursday night in mid-December at Duckworth's on Montford Drive, and the taphouse is teeming with patrons. A few small company holiday parties surround the long table in the bar area better known as the "surfboard." Others are here to take advantage of $3-pint night, choosing from nearly 60 taps, at least five of which are always local. Duckworth's attracts an array of customers. On any given evening, you're likely to see families, a group enjoying girls' night out, fans watching a game, and folks who just got off work.
By closing time on this night, the hardworking bartenders will pour nearly 750 glasses of beer.
The next afternoon, in a much quieter atmosphere, beverage manager Curtis Smith talks about Charlotte's craft craze. "We get a bunch of different people from different backgrounds," says Smith, who began a new job as sales representative for Olde Hickory Brewery in January, "and I see them bonding here over good beer. I even think in a few years we might rival Asheville."
That's a strong statement. The Asheville area features nearly 20 breweries and has been awarded the title of "Beer City, USA" (according to an online poll, which, it should be pointed out, relies solely on voting from the public) for four years in a row. Three major national craft breweries—Sierra Nevada, New Belgium, and Oskar Blues—have plans to open brewing facilities in the area.
Asheville native Chris Hunt, owner of Charlotte's newest bottle shop, Good Bottle Company, says Charlotte doesn't necessarily need to become Asheville. "What's great about craft beer is that all destinations are unique," says Hunt, whose shop features individual bottles lined up by style (IPA, porter, etc.), growlers for sale, and 12 taps, half of which are usually devoted to local beers. "Whether you're traveling to Asheville, Atlanta, or Charlotte, you can get beer [you can't get] anywhere else. Our goal when opening Good Bottle was to really expose people to craft beer and prove to folks that you can get a handful of beers that only traveled a couple of miles."
A couple of miles reflects about how far Chris Gillespie's condo is from Good Bottle in South End. Gillespie, 28, has been a craft-beer aficionado since his college days at Radford University in Virginia. As a sales rep for Island Oasis, a frozen drink company, his territory includes Asheville, and he's happy to be able to find the same quality of beer in his backyard.
"It's awesome to see it come home to Charlotte," says Gillespie, sitting at Good Bottle's bar drinking a half pint of Terrapin Liquid Bliss (a chocolate–peanut butter porter that, while not local, is highly recommended if you can find it). "I've always wished for a small brewery or beer place in my area for a while, and now I have two with Good Bottle and Triple C."
Gillespie, who moved from Washington, D.C., to Charlotte seven years ago, says he enjoys running on the path alongside the light rail, and oftentimes he will stop into Good Bottle halfway through to see what's new. He asks Hunt to set aside his purchases, and then he comes back in after his run to reward himself with a pint or two.
Daniel Hartis, a health-care marketer, launched CharlotteBeer.com in January 2011. The blog features news about local beer and brew-related happenings, including the event where we meet at Vintner Wine Market in the Arboretum. Bell's Brewery in Michigan (creators of the ever-popular Two Hearted Ale) is the feature this night. The bar area quickly floods with customers as people get off work, and several come up to speak to Hartis, who is enjoying a Bell's Java Porter.
Hartis's blog is a bookmark for the local craft community. CharlotteBeer.com has amassed a quick following and traffic is increasing, with as many as 12,000 pageviews per month. "Local beer is close to being essential here now," says Hartis, whose book, Charlotte Beer: A History of Brewing in the Queen City, will be published in March. "Even if you go to somewhere like Applebee's or Chili's, you expect to find at least something like Olde Meck Copper. People are coming up from places like Raleigh and Columbia to check out the beer scene."
And while that scene includes many new establishments, a few veterans in the local craft community have been waiting for this moment for some time.
The first thing you see before entering Brawley's Beverage is a handmade sign: "Don't let the baby out." The sign refers to owner Michael Brawley's two-year-old daughter, Piper, who is often with Brawley at the store. Brawley spent much of his youth at his dad's place, a gas station and beer and wine shop on Park Road. Now he runs his own place, located just down the street from his dad's old store.
Brawley's Beverage opened in 2003 and, for a while, was one of the few local stores with a decent selection of craft beer. Along the way, the shop has garnered a regional reputation, and Brawley has earned a sort of godfather status in the local beer community. "I've been watching this grow for 10 years," he says. "It's just been a matter of other people catching on and it's like, 'Now, finally.'" By May, Brawley plans to add taps and a tasting room.
Brawley evangelizes for the Charlotte beer scene every chance he gets. "We get a ton of people coming in here from out of town. Some will stop in, checking out the neighborhood because they're moving here and they think it's a beer desert, but it's not. I try to educate them."
"You have people here from other great beer cities who want a similar culture here. And the breweries have a rabid following."
To Brawley's point, Charlotte's population has risen significantly over the years, and the new residents are often looking for a taste of home.
"Charlotte has become a transient city, to where you now have so many transplants from various parts of the country where there are established beer scenes," Hartis says. "So when they come here, they sort of expect that."
Count Nils Weldy as one of those people. Weldy moved from Boston to Charlotte five years ago and was involved in ticket sales and marketing for local sports teams. He decided to start an event production and marketing company in 2010. One of the first things that came to mind was a beer-tasting festival.
"I couldn't help but notice how fast Charlotte was catching up in the beer industry," Weldy says. "But a lot of beer festivals I had been to had 50 or 60 breweries, and that can be a little overwhelming."
Weldy came up with the Queen City Brewers Festival—a tasting event that features Charlotte breweries as well as local artists and food vendors. The inaugural event was held last February at Neighborhood Theatre. Tickets sold out in three weeks. Beer lovers received unlimited pours of local craft brews, with some of the breweries bringing special batches just for the event.
This year, tickets for both the afternoon and evening sessions sold out within three hours, and there was a 350-person waiting list as of late December, Weldy says.
"I think it's clear that the Charlotte community wants to sink its teeth into the local beer culture," Weldy says. "You have people here from other great beer cities who want a similar culture here. And the breweries have a rabid following."
None more than NoDa Brewing Company.
Despite the numerous beers at his disposal, Todd Ford is drinking water this evening. It's a forgivable choice, given that he and the brewers at NoDa have been working 14-hour days at times to keep up with the demand of the most-talked-about new brewery in the area.
"It's definitely been an incredible year," says Ford, who was a pilot for more than 25 years before leaving the airline industry to start NoDa Brewing Company with his wife, Suzie. "We exceeded many of our expectations, but that being said, it was still more difficult than we expected."
With the faint smell of mash still permeating the NoDa taproom, Ford chuckles when looking back on the brewery's inaugural year.
The original business plan projected 52 accounts at the end of the first year (an account being one restaurant or pub to which NoDa sells a keg). The brewery nearly tripled that projection, with more accounts coming on board almost weekly. Then came the silver medal at the GABF for their Coco Loco Porter, a dark ale with hints of chocolate and toasted coconut.
"We already see people coming in from out of town who have a list written up of the breweries they want to visit," Ford says. "It's astounding; it happens weekly."
"They've already done some research on our town … but they want to make that personal connection, talk to the owners and brewers. Each brewery here offers something unique and brings a distinct amount of people to the beer culture and crowd in Charlotte, and we all share them with each other."
That uniqueness stretches beyond beer. NoDa and Triple C both have running clubs, where people meet at the breweries to go run and later enjoy a refreshing alcoholic cool-down. Many of the breweries also feature live music, which was the case during the first Friday night of 2013 at NoDa, as alt-country artist Dave Desmelik played in front of a packed house.
Pete Morris walked into the brewery and quickly ordered a pint of Hop, Drop 'n Roll. Morris, 46, is a regular at NoDa. Every Tuesday, the brewery releases another in its "NoDable Series," a small batch only available at the taproom (examples in the last year include James Blonde, a Belgian blonde ale, and Thrilla' in Vanilla, a brown ale brewed with vanilla beans). Since NoDa opened in late 2011, Morris has missed just two of the NoDable Series.
When Morris moved to Charlotte from Harrisburg, Pennsylvania 14 years ago, there wasn't much of a craft scene. Now, he can walk from his place in NoDa to several bars and breweries.
"It's bringing the whole city together," Morris says. "A common interest everybody has is a love of beer. And it's not just guys; you get a great female crowd too. The females who come in know what they like and what they appreciate in beer."
Morris then expands on how this city is bonding over local craft beer through a phrase he has coined. "You know how this town used to be called 'Banktown'?" he asks. "Well now I like to call it 'Tanktown.'"
But while locals can't get enough of the offerings from newbies NoDa, Birdsong, Olde Mecklenburg, Four Friends, Triple C, Ass Clown, and Heist, these weren't the first establishments in Charlotte to offer local suds.
Almost 20 years ago, Tim Johnson was Todd Ford. Johnson and his wife, Susan, left their respective careers (as did Todd and Suzie) to start Johnson Beer Company, which was one of the few local breweries at the time. Like Todd, Tim was a home brewer who had a bigger vision.
"The company my wife and I were working for wasn't doing well, and at the time, microbreweries were projected to be 10 percent of the (national) beer market in five years, where [then] it was at 3 percent," Johnson says. "So … we decided to take the plunge and start a business."
Johnson Beer Company opened in 1994 on South Boulevard and kept to a core of four brews: Amber Ale, Brown Ale, Pilsner Lager, and Oatmeal Stout. "Our biggest fear was that it wouldn't get on the shelves of supermarkets and in restaurants," Johnson says. "We'd go out to local establishments, and people didn't understand what we were doing. Some restaurants didn't think their customers would be interested in it."
There was also the daunting task of going up against the giants of the industry, known collectively as BMC (Budweiser, Miller, and Coors). Eventually, the Johnsons decided the best way to sell themselves was to let the product do the talking.
"We dealt directly with the managers," Tim says. "We'd crack open a beer with them, get them to try it." The Johnsons would tell them that it was local and fresh, pointing out that customers visiting from other places would want to try a local brew.
Before long, Tim says, Johnson Beer Company had control of 10 percent of the local taps. By 1998, it was the second largest brewery in the Southeast.
"It was huge," Tim says. But just as fast as things took off, business started to fade. By 2001, Tim and Susan decided to shut down the company for good.
"There just wasn't enough there anymore," Johnson says. "Some of the bigger distributors were being pressured at the time to lock out microbreweries … that was a major dynamic. And just to be bluntly honest, it wasn't a business that was making a lot of money … I didn't want to be a starving artist the rest of my life."
Johnson, who still homebrews at times, may have been ahead of his time. But he says the time is right now.
Even with the local craft boom that has taken place, the question remains: can it last? Can Charlotte become known more for its beer than anything else? Will more people soon order Birdsong in area bars instead of Budweiser? And could there come a day when Charlotte overtakes Asheville as the beer capital of North Carolina?
Why not? After all, Charlotte has held its annual Craft Beer Week (a can't-miss event for local beer lovers held in mid-March) for three years now, while Asheville just had its first. The GABF medal tally this year was Charlotte 2, Asheville 0.
But Hartis points out that several breweries were in the Charlotte area in the 1990s, and almost all had shut down by 2000. And Brawley adds that with every boom, a bust often follows.
"The rapid growth with shops and labels—that's just not a sustainable business model," Brawley says. "You're going to see peaks and valleys. We're at a peak right now, but there will be a trough at some point that separates the wheat from the chaff. But what's great is the [consumers] who have caught onto the idea aren't going back to BMC, and that's a good thing."
Others believe that Charlotte becoming a beer destination is a foregone conclusion, though it will continue to take time.
"If Charlotte is going to be known for its beer, the way you will know won't be by the sheer number of breweries," Self says. "It'll be by the people who live here who take pride in their beer and drink it often.
"It doesn't matter if someone calls us Beer City, USA. What I care about is when you travel to Charlotte and ask someone what to drink, what's their answer? That's what we can brag about and get a certain pride about us when we say, 'I drink this phenomenal beer that's made by people I know, 10 minutes from here.'"
Matt McKenzie is a freelance writer in Charlotte.