Cheers Charlotte, Triple C present First Annual Capture the Crown Competition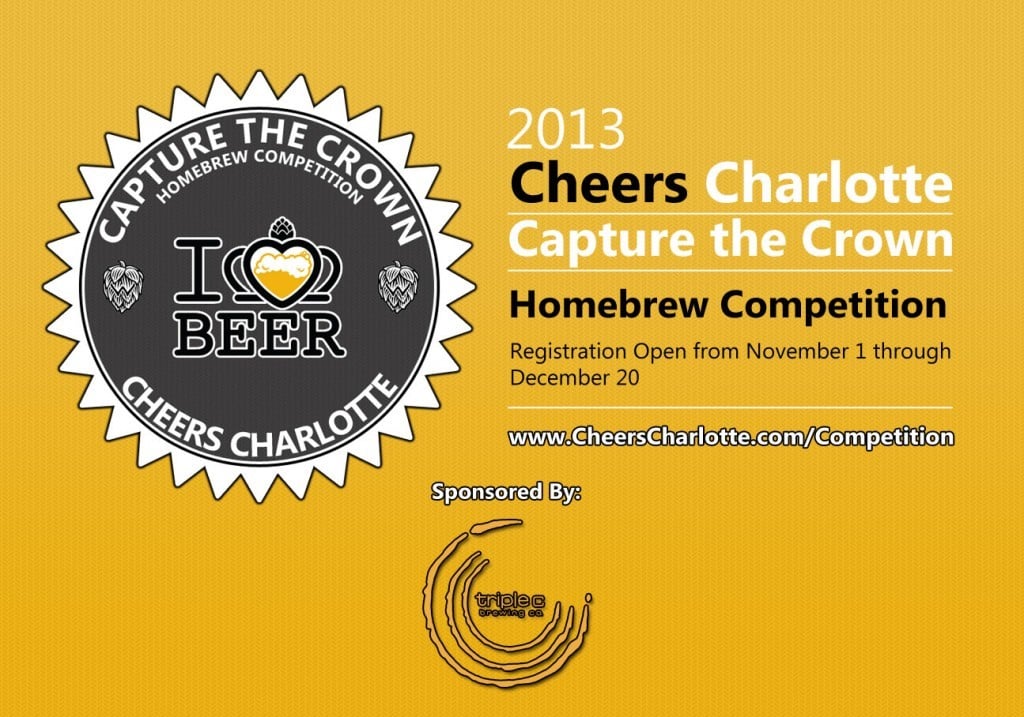 December is always a busy month for craft beer around these parts. Tickets to two of the top festivals go on sale, some of the best beer of the year gets released and then there's all of the holiday parties/gatherings.
It's hard not to let things fall off the radar, and there's one event I neglected to write about but deserves mention given its subject: homebrewing. Local podcast Cheers Charlotte has partnered with Triple C Brewing for the first annual Capture the Crown competition, and final entries are due this Friday (Dec. 20).
I've seen and talked to more and more people who are brewing their own beer in recent years. Stores such as Alternative Beverage and Custom Home Pubs, along with the Carolina BrewMasters club, have become go-tos for products, supplies and advice for local homebrewers.
As an aside, I'll give you this tip: When at some of these larger outdoor beer festivals where lines can stretch, head over to the professional homebrew tent. Less of a wait, and there's a wide variety of beers to choose from, most of which are just as good or even better than some of the professional breweries.
Just as NoDa Brewing did earlier this year with the Top of the Hop Pro-Am, Cheers Charlotte and Triple C are trying to find the best of the best when it comes to homebrewing. Here are the details/restrictions. First, you have to be a resident of North or South Carolina, and can only enter once. You cannot have a membership in BJCP (Beer Judge Certification Program); this is truly for the amateur homebrewer. Finally, think fast brewed beer. This means no sours, ciders, meads or lagers. Your entry must be ready to serve a month after it's brewed.
The cost is $6 per entry, and the beer must be in three separate 12 ounce bottles (or two 22 ounce bombers) for judging. You can drop off the entry at Triple C, where the final judging will take place in mid-January by the hosts of Cheers Charlotte along with Triple C head brewer Scott Kimball and the owners of the brewery.
The winner of Capture the Crown will receive a trophy, but most importantly, his or her beer will be brewed on Triple C's pilot batch system for a special release Feb. 8 at the brewery.
Again, time is of the essence, as all entries must be received at the brewery by this Friday. So if you think your homebrew has what it takes to be crowned Queen City champion, get it in bottles and over to Triple C. And for more information, check out the contest's home page at CheersCharlotte.com.