Chef Alyssa's Kitchen Marks 10 Years
The Wilens' Charlotte classroom has helped thousands make the most of their time in the kitchen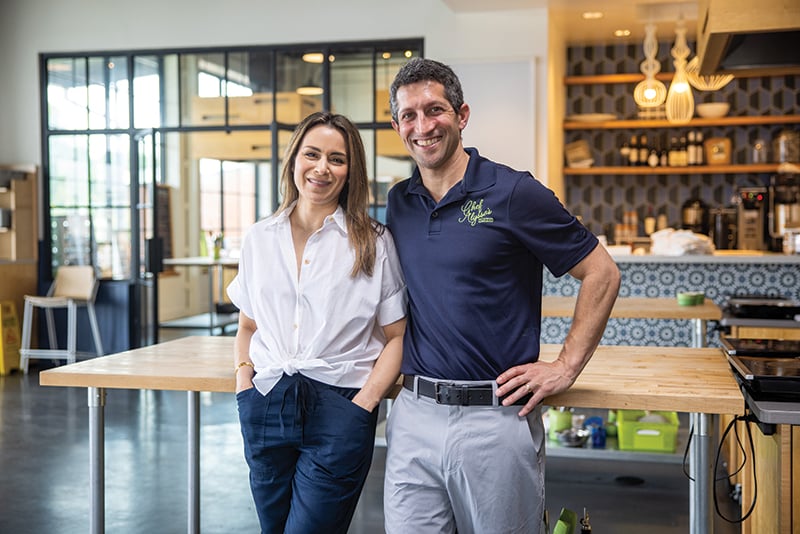 It's a Monday morning in late May, and Alyssa Wilen sits at a table in her cooking studio with her laptop and Stanley tumbler. She wears her navy chef's coat with a green logo, and her rolled-up sleeves reveal a decade's worth of burns and scars. Andrew, her husband and business partner, sits beside her with his own coffee and laptop, responding to emails and planning events. A few of their instructors are in the kitchen preparing for the 12 classes they'll host that week.
"Alyssa taught the first 600 classes we ever did," Andrew says. "Now, we have several people who teach. We're approaching 2,500 classes."
In 2012, Alyssa Gorelick was the 27-year-old executive chef at Fern, Flavors from the Garden, in Plaza Midwood. It was one of the most popular restaurants in Charlotte, along with Harvest Moon Grille, The Fig Tree, and Carpe Diem. Andrew, then her boyfriend, coordinated events for Charlotte Center City Partners. They'd dated for about a year when they decided to start a business and teach hands-on cooking classes.
"We both had an entrepreneurial spirit and the desire to bring something unique to Charlotte," Andrew says. "We had $10,000, so we gave it a shot."
Charlotte already had a degree-granting culinary school, Johnson & Wales, and plenty of people who liked to cook. What the city lacked was a happy medium, more of a fun workshop than a classroom—a place where everyone from novice cooks to professional chefs could sharpen their skills. "This was about people coming to us to cook," Alyssa says, "not going to a restaurant or someone's home." Chef Alyssa's Kitchen hosted dates and girls' nights out, and the Wilens offered private parties and company outings, too. Over a decade, thousands of Charlotteans have honed their kitchen skills through their classes.
The Wilens laugh as they remember the early days of Chef Alyssa's Kitchen. They leased a space in Atherton Market, back when South End was affordable to renters, and designers turned old mill warehouses into furniture and design showrooms. Their classroom had a single oven, no dishwasher, and 10 knives for 20 students. "I think we invited four friends to help fill it up," Alyssa says. "If we started our business now, we'd have much bigger challenges. Real estate has gotten crazy. You have to start new concepts with pop-ups or in a ghost kitchen now."
But word spread, and people signed up to chop, stir, and saute alongside Chef Alyssa. Andrew operated the camera that projected the classes onto a screen and used speakers from a secondhand electronics store. "We'd go to festivals and do cooking demonstrations that took all day, but we just kept plugging away and waiting for the tide to turn," Andrew says. "By the end of 2015, we sold out every class."
Three years later, they outgrew their suite in Atherton Market and moved into a 3,380-square-foot space in the Bowers complex in LoSo. In addition to a classroom that could accommodate 24 guests and five different skill levels, they rolled out Chef Alyssa's Table, a catering service that offers family-style dinners for pickup or delivery, and Chef Alyssa's Spreads, a line of condiments that includes Smoked Chili and Rosemary Mustard Spread and Champagne-Tomato Jam.
Their range of cooking classes grew as well. The Wilens added kids' and teens' classes and culinary camps. They emphasized local ingredients and offered Stuffed Pasta Workshops, Southern Cooking on the Big Green Egg, Watercolor Cake Decorating, and Latin Street Food classes. In 2017, Entrepreneur magazine ranked Chef Alyssa's Kitchen one of the best entrepreneurial companies in America.
Alyssa admits that in the beginning, she struggled with the idea of giving up her identity as a restaurant-focused chef. But as Charlotte's food scene expanded, so did her view of a chef's role. "This used to be more of a meat-and-potatoes city," she says. "Chefs were more into people-pleasing. They'd give customers a big portion and make things as simply as they could. There wasn't a lot of desire to eat differently. Now chefs are wanting to make a name for themselves, so it's more of what they like and showing people how good it can be."
Today, the Wilens have two children and manage a team of 14. They'd love to add a second location in the southeast, but they're in no rush. On August 18, the 10-year anniversary of Chef Alyssa's Kitchen, they'll host an Italian cooking class, which they've done every year on that date since 2013.
To mark the occasion, they're putting a timeline on a wall of the studio so people can trace the evolution of Chef Alyssa's Kitchen and see how their business claimed this space in the city's food scene. "We still get asked, 'Is there really a Chef Alyssa?' and 'Is this a franchise?'" Andrew says with a laugh. "We're a homegrown business. We truly believe we couldn't have started this and been as successful anywhere else."
"And," Alyssa adds, "cooking is all about understanding timing."
TAYLOR BOWLER is the lifestyle editor.