Chef's Recipe: Morels and Halibut
The Fig Tree's head chef spills on his favorite spring time ingredients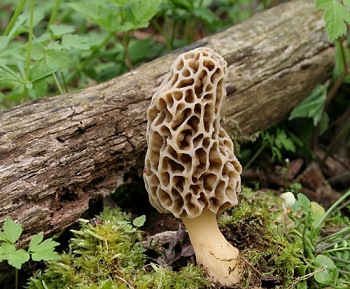 Chef Greg Zanitsch of The Fig Tree restaurant in Elizabeth has his own opinion on the best ingredient for spring. The chef's top pick? Morel mushrooms.
"Mushroom lovers around the world (myself included) look forward to spring for morel season. My favorite way to eat (them) is sautéed with garlic and shallots with salt and pepper and a drizzle of balsamic over fresh focaccia bread. Alaskan halibut has an elegant texture and sweet, subtle taste," says Zanitsch.
The rather homely-looking mushrooms lend themselves to Zanitsch's recipe for sautéed Alaskan halibut with morels and prosciutto over a spring pea risotto. The below recipe serves about 4 people and would be more than impressive for a small dinner party.
Ingredients
4 pieces Halibut filets
3 tablespoon vegetable oil
2 cups morel mushrooms
2 cups arborio rice
1/2 cup parmesan cheese
1 tablespoon butter
1/2 onion, diced
2 cloves garlic, minced
1 shallot, minced
1 cup spring peas
Chicken stock (about 5-6 cups)
salt and pepper
For the halibut: Preheat the oven to 400 degrees. In a heavy, ovenproof frying pan, heat 1 tablespoon of the vegetable oil over high heat. Season the halibut filets with salt and pepper and cook in the oil about 3 minutes, until the bottom is browned. Place the fish in the oven and cook until just opaque, about 8 minutes. Place the fish on heated plate to keep warm.
For the risotto: In medium saucepan, heat the chicken stock. In a separate sauté pan, heat 1 tablespoon of the vegetable oil and add the diced onion; cook until translucent. On low heat add the arborio rice, salt, and pepper. Ladle enough chicken stock over rice to cover. As the rice absorbs the stock, continue to ladle more as needed. After 15 minutes, add the spring peas to the rice. When the rice is al dente, finish with a bit of butter and the parmesan cheese. The whole process should take roughly 30 minutes.
For the mushrooms: Soak the morel mushrooms in water for 15 minutes to remove any dirt. Pat dry. In sauté pan over high heat, add the final tablespoon of vegetable oil, then the garlic and shallots. Add the morel mushrooms and sauté until soft, about 5 minutes, then season with salt and pepper.
To Assemble: In the center of the plate place the risotto. Top with the halibut and pour the morels over the top of the fish. Dig in and enjoy!