Chef's Recipe: Waxawalla Onions
Barrington's chef takes his turn dishing on spring ingredients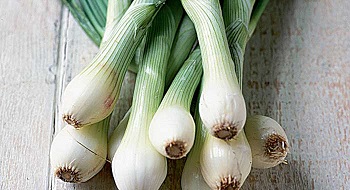 Chef Bruce Moffett, owner and head chef at Barrington's In Foxcroft, has weighed in on the favorite spring ingredient debate. The verdict? Waxawalla onions – a "delicate and earthy" treat peeking out from the soil in spring. Moffett says he "loves the color and the flavor" of the humble bulbs, and uses them in his spring onion soup with Maine crab.
Ingredients:
10 spring onions (waxawalla)
1 potato, diced
1 cup of white wine
1 cup heavy cream
1 qt water
Thinly slice onions and potatoes and add to a soup pot. Add white wine and cover, then simmer at a low heat until onions and potatoes are tender. Add water and simmer for an additional 30 minutes. Add cream and purée in a blender on high speed. Season with salt and white pepper. Adjust the consistency if needed.
Once you have the consistency you're looking for, add the following to the soup pot:
8 oz Maine crab
1 tsp minced onion
1 tsp minced celery
1 tsp chopped parsley
1 tsp vegetable oil
Squirt of lemon juice
Mix all ingredients and season with salt and pepper. Serve immediately.
Simple, springy, and fresh. Bon appetit!