Chinese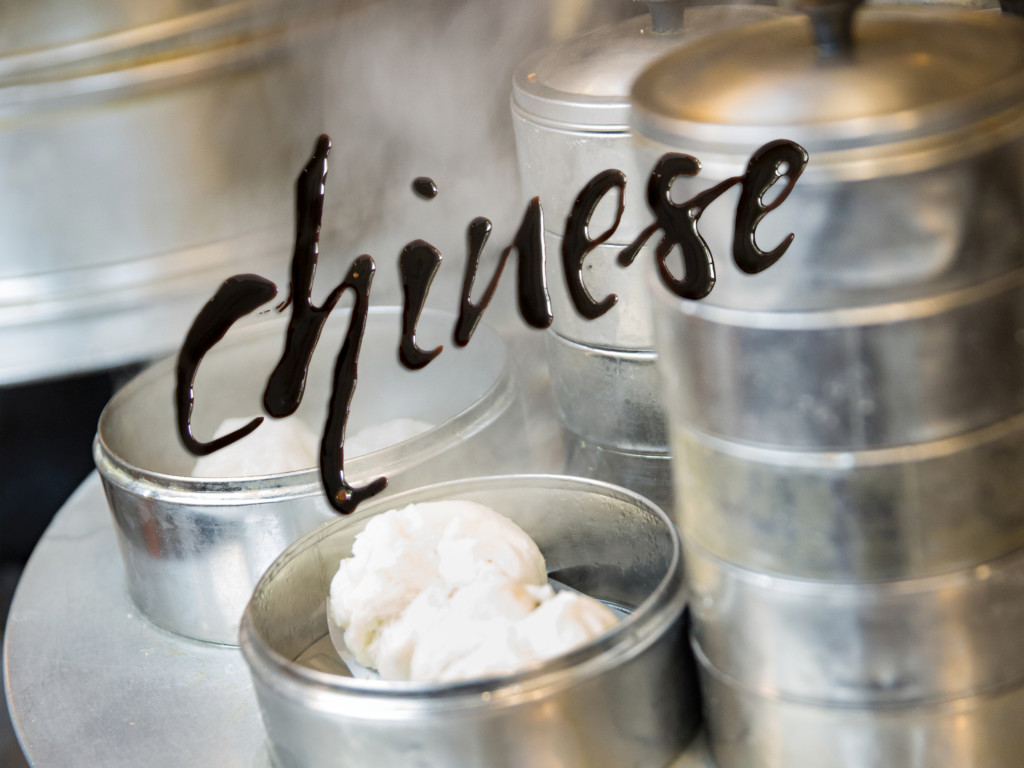 > Taipei Express
Unlike many of its Myers Park neighbors, Taipei Express isn't known for its elegance. But when you make your way into this straightforward Chinese restaurant, you'll likely be treated as a regular. For an order that strays from basic, opt for the Crispy Scallion Chicken or a savory lo mein. Efficient and consistent, Taipei Express is primarily a take-out spot, but you can sit inside.
731 Providence Rd., 704-334-2288
---
Dim Sum Chinese Restaurant dishes: clear noodles with vegetables are served in a clay hot pot
(top) and Beef Chow Fun, a Cantonese noodle dish (bottom).
> Dim Sum Chinese Restaurant
On the outside, Dim Sum is a simple concrete structure with faded red lettering. But Charlotteans don't flock to this Central Avenue spot for a sophisticated atmosphere—they come for authenticity.
Hong Kong native and owner Yeekam Heumayer opened Dim Sum in 1996 with three men—all of whom came from the same village in China and learned how to cook in Hong Kong—in the kitchen. Two of those men are still on the payroll today (the third passed away last year), preparing shark's fin and bean-curd dumplings, chicken feet in black bean sauce, and other interesting options, such as duck's feet and jellyfish, just like they did back home.
For larger-plate options, try the "hot pot specialties," such as braised beef served in a clay pot, or ho fun (wide Chinese rice noodles), chow fun (a Cantonese dish made by stir-frying a meat with wide rice noodles and bean sprouts), and mai fun (served with "angel hair" rice noodles). A seafood-heavy selection of standards is also available. —V.B.
2920 Central Ave., 704-569-1128
---
> Best Wok
This Chinese takeout mainstay has been in business for 25 years. Its dining room is lined with green vinyl booths, housed in a nondescript location in Sardis Crossing Shopping Center. Best Wok excels with its standard Hunan- and Szechuan-style dishes, including Orange Beef, chunks of beef served in a Szechuan-style orange sauce, and Sesame Shrimp, served piping hot and fast, for very reasonable prices.
1717 Sardis Rd. N., Ste. 6B, 704-847-2227
---
> Soho Bistro
Soho is a buzzing uptown bistro located in the Hearst Tower, and it's an ideal lunch spot for an Asian-food fix. Lightning-fast, friendly service complements hot, savory Chinese favorites, such as Sha Cha Shrimp and Mongolian Chicken. Though the prices increase dramatically after lunch, don't overlook SoHo for a reliable pre-theater or pre-concert meal uptown. Delivery available in uptown.
214 N. Tryon St., Ste. 110, 704-333-5189
---
> Huang's Chef
Some usual suspects (crab rangoon, spare ribs) and some surprises (edamame) dot the appetizers menu at Mooresville's Huang's Chef. Dozens of standard Chinese lunch specials, offered from 11 a.m. to 3:30 p.m., cost less than $6. General Tso's Chicken and other mainstays come served with great presentation, and new finds, such as Red Curry Coconut Beef, mix up the entrée menu.
2785 Charlotte Hwy., Ste. 19, Mooresville, 704-664-1988
---
CHARLOTTE'S ASIAN CUISINE: A GUIDE
---
---
---
---
---