Chocolate Party, Paint Wars, Parties with Pro Athletes, and More May 10-12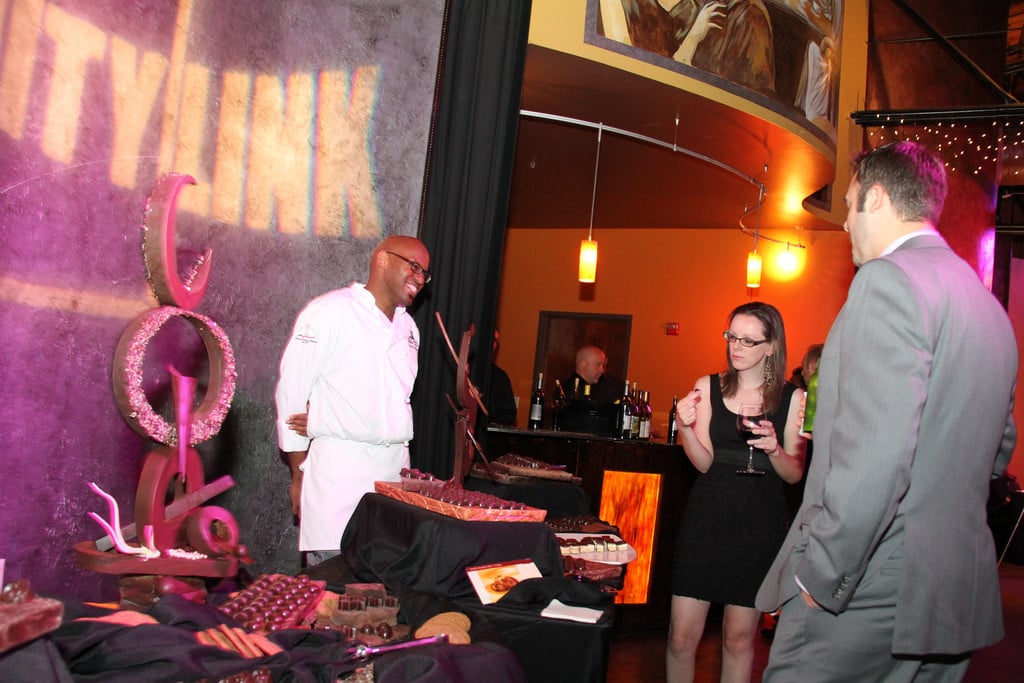 There's no shortage of parties and social events to check out this weekend. Carpe diem!
Friday, May 10
Friday Live! at the Factory (weekly event)
Enjoy live performances by Tonic and Black Cadillacs. Admission to this event also gets you into several of the surrounding NC Music Factory venues. 6-11 p.m. $5 in advance; $10 at the door; season pass for $35.
Fountain Plaza at NC Music Factory
, 1000 NC Music Factory Blvd.,
ncmusicfactory.com
.
Concerts in the Round (weekly event)
Kick off your weekend in SouthPark, with live music by Liquid Pleasure Super Show. 7-11 p.m. Free.
Piedmont Town Center
, 4725 Piedmont Row Dr.,
aliveafterfives.com
.
Survive Paint Wars
Saturday, May 11
Sweet Escapes: A Chocolate Affair
This fundraising party will feature 500 pounds of chocolate, hors d' oeuvres, beer and wine, entertainment, and a silent auction. Proceeds will benefit Community Link, an organization that helps move working families from homelessness to housing. 7-10 p.m. $60.
CenterStage @ NoDa
, 2315 N. Davidson St.,
centerstagenoda.com
,
sweet-escapes.org
.
Lady In Red
To commemorate the new Marilyn Monroe Strawberry Vodka, this party will feature a Marilyn Monroe look-a-like contest. So ladies, come dressed in your best costume impression for a chance to win the $200 cash prize. Drink specials include $5 strawberry vodka and $5 whiskey. 9 p.m.-2 a.m. Free.
SIP Charlotte
, 200 N. Tryon St.,
sipcharlotte.com
.
Signature Saturdays
Enjoy live jazz by Tragik Soundz, followed by the sounds of DJ Shogun, who's also celebrating his birthday. Order food from the pizza and pasta bar until midnight; drink specials all night include $6 martinis and $3 bottled beers. Presented by Eddietainment. 9 p.m.-2 a.m. Free before midnight; for VIP tables, eddiet456@gmail.com. Vapiano, 201 S. Tryon St.,
vapiano-charlotte.com
,
eddietainment.com
.
NBA Celebrity Welcome Back Party with Antawn Jamison
Come party with the Charlotte native and L.A. Lakers star. 10 p.m.-2:30 a.m. Free until midnight; cover charge after.
Club 935
, 935 S. Summit Ave.,
club935.net
.
Gamecock Grad Party
Celebrating the new class of University of South Carolina graduates and welcoming all Gamecock alumni. Music by resident DJ Edward Shouse and USC alumnus guest DJ Vera Bang. Hosted by Payton Brady, Peyton Barker, and Matt O'Brien. 10 p.m. Free; for VIP tables, yussra@oakroomclt.com.
Oak Room
, 200 E. Bland St.,
oakroomclt.com
.
#Graduation2013
Sunday, May 12
Sunday Funday (weekly event)
Enjoy this great spring weather out at the tiki bar. Live music by Scott and Woody. Drink specials include $2 Keystone Draft, $3 mimosa, and $5 Bloody Mary. 4 p.m. Free.
The Rusty Rudder
, 20210 Henderson Rd.,
therustyrudder.net
.
Sin Sundays: Gold Medalist Edition
After many of the country's top swimmers have competed in the
SwimMAC Charlotte UltraSwim Grand Prix
, Cullen Jones hosts this party with special guests Ryan Lochte and Ricky Berens. Music by DJ Rowshay. Drink specials include $5 crown and down, $3 domestic beers, and $100 select VIP bottles. Doors open at 6 p.m., and space is limited; email info@stachehouseclt.com for admission inquiries and table reservations.
'Stache House Bar & Lounge
, 1520 South Blvd.,
stachehouseclt.com
.
Verify dates, times, prices, and other info at the web addresses listed for each event.