Chocolate Rosemary Tart
Make this decadent tart for your next party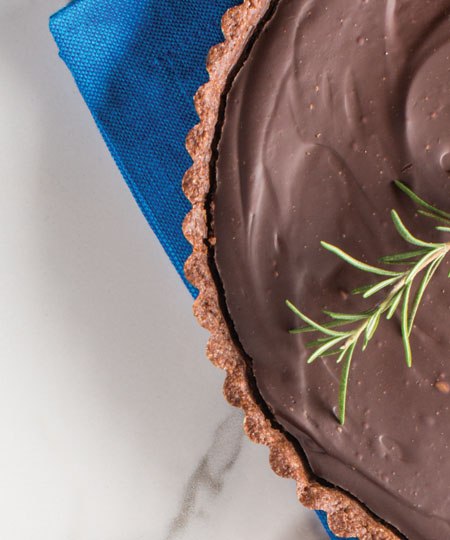 BLT Steak pastry chef Rachael Burns came up with the idea for a chocolate rosemary tart when planning a romantic menu for one of the restaurant's signature cooking classes. Although chocolate and rosemary may seem an unlikely pairing, Burns says the two are complementary. "Rosemary is just such an earthy flavor," she says. "It goes really well with dark chocolate. It just gives a hint of something unexpected." In your kitchen, the recipe will come together quickly once the shells have been made, and it will keep in your refrigerator for three or four days—assuming it lasts that long.
Makes 1 tart
FOR THE TART SHELL
8 ounces butter, softened
1 1/4 cup sugar
1 egg
1/2 teaspoon vanilla extract
2 cups all-purpose flour
1/3 cup cocoa powder
FOR THE FILLING
1 12-ounce can evaporated milk
2 egg yolks
3 sprigs fresh rosemary
12 ounces dark chocolate
TO MAKE SHELL
In a large mixing bowl, cream butter and sugar until light and fluffy. Add egg and vanilla, mix well. Sift the flour and cocoa powder together; add to mixture. Mix just until dough comes together and is mixed well. Divide into two small disks, wrap in plastic, and refrigerate for at least an hour before use. Place in an 8-inch tart dish and bake for 10-12 minutes in a 300- to 325-degree oven.
TO MAKE FILLING
Prebake tart shell and allow to cool.
Cook evaporated milk, yolks, and rosemary in pan over medium heat until bubbling and slightly thickened. Strain, pour over chocolate, and whisk until chocolate has melted and filling is smooth.
Pour into prepared tart shell and refrigerate until set.
Tip: Short on time? Skip half of the prep work and pick up a premade tart shell at your regular grocer.
Tip: Burns uses a chinois strainer to strain the cooked yolk-and-milk mixture.
Tip: When cooking the yolk/milk mixture, be sure to whisk constantly. "It doesn't take very long to cook, even when you're doing it slowly," Burns says.
Tip: "Sometimes the dough can be a little temperamental. It might not stay in one piece," Burns says, adding that it's not a problem—just add the dough in pieces and press it back together so that it completely covers the tart pan.
Tip: Leftover egg whites keep well in a container in the refrigerator. Burns suggests saving them to make egg-white omelets the next morning.