Christmas at the Speedway
Charlotte Motor Speedway features more than 3 million lights—and a whole lot more—at Carolina Christmas through December 31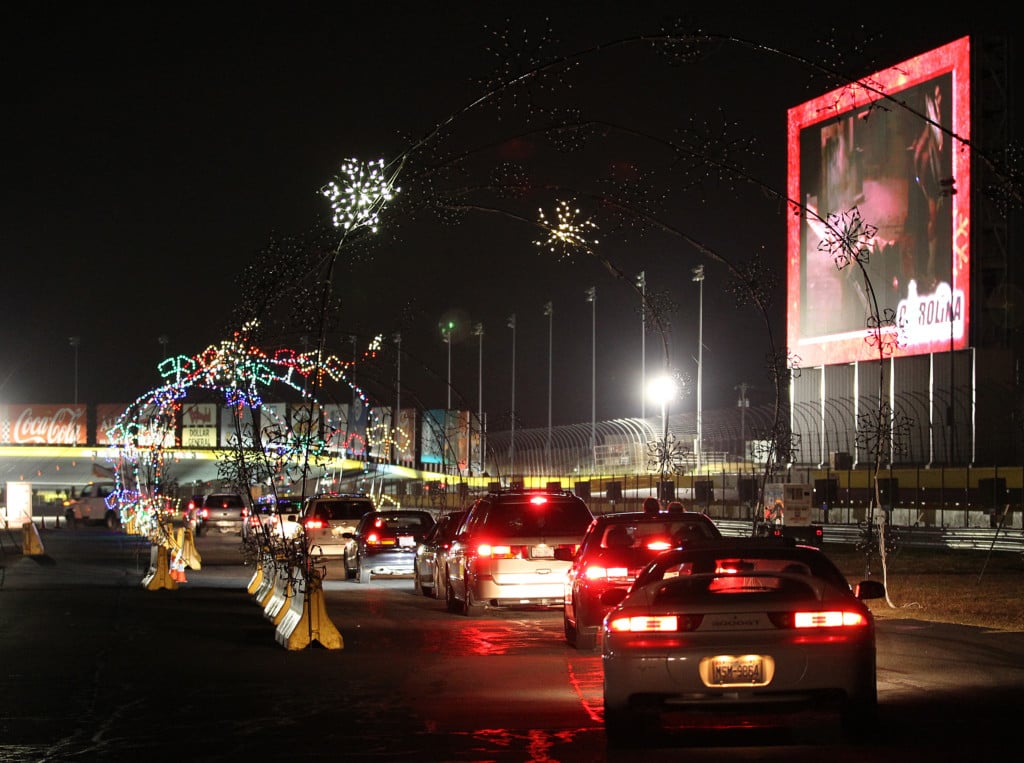 It's beginning to look a lot like Christmas, and you can get into the yuletide spirit at a place not necessarily associated with the holidays at first thought: Charlotte Motor Speedway. The massive motor-sports complex's Carolina Christmas light display is now open, featuring more than 600 of your favorite holiday characters and figures, illuminated by more than 3 million lights. In its second year, this year's display is larger, has more features, and could be the making of a new holiday tradition in the Charlotte area.
I don't usually get into the holiday spirit until about the week before Christmas, when I'm scrambling to do last-minute gift shopping, but after visiting Carolina Christmas during its opening weekend, I'm ready for Santa. And while this is a prime event for families, I don't have children, so I took a date. We had a great time.
The entrance to Carolina Christmas is at zMAX Dragway on Bruton Smith Boulevard, and you can see the trail of lights as you make your way down the long driveway. At the ticket booth, where the driving tour officially begins, I was instructed to tune my radio to 91.1 FM. The station played holiday music and Christmas stories told by NASCAR legends like Dale Earnhardt Jr., Richard Petty, and Bill Elliott.
As we made our way down the long, winding roads, we passed light displays of Santa Claus, reindeer, Christmas trees, snow men, nutcrackers, and just about any imagery that comes to mind when you think of this time of year. There were also light displays from some of Charlotte's media outlets such as Fox Charlotte (a tree surrounded by gifts) and Lite 102.9 (a gingerbread house).
One of the coolest parts of the ride was when we drove on the actual speedway track. Even though our cars cruised at about 10 miles per hour, it was surreal to drive on the track where professionals reach speeds in excess of 200 mph. On the track you also get a great view of the speedway's 200-by-80-foot high-definition screen, the largest in the world. A montage of Christmas movies and cartoons played—I saw Will Ferrell, James Stewart, and Rudolph, to name a few.
I don't want to give away all the fun details of this experience, but I'd like to add that I would've been satisfied having only done the driving tour. But as that portion of the drive came to an end, we were directed to the infield's Christmas Village, where you park your car and walk around to see more attractions. There's a nativity scene with actors and live animals, Santa's workshop, rides for kids, and more. Plus, the garage where cars are normally housed on race days has been transformed into a depot filled with vendors selling food reminiscent of what you'd find at the county fair, like cotton candy, funnel cakes, cheeseburgers, corn dogs, and fried candy bars, as well as items like jewelry, candles, and decorations. The warm doughnuts and hot chocolate we had made the night complete.
Carolina Christmas is open seven nights a week, 6-10 p.m., through December 31 (closed on Christmas Day). The Christmas Village section is open Thursdays through Sundays. Admission is $20 per car, truck, or SUV for up to eight people. For more details, visit charlottemotorspeedway.com/christmas.
Click on any image below to begin a slideshow.