City Smoke Rejuvenated
A change here and there at the uptown spot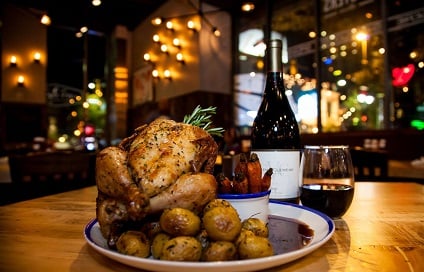 City Smoke, the barbecue restaurant in uptown Charlotte, has rebranded and shifted its concept to a rotisserie, smoke house, and speak easy. The new menu launched on November 12, and about one month in, the reception has been great. A contemporary take on southern classics and comfort food, the menu still has the "down home" feel City Smoke is known for. There's also a more adventurous wine selection as well as added craft cocktails.
The re-brand comes at a time when the restaurant's owners wanted to take the eatery to a new level – more than that of a barbecue joint. Of course, that barbecue was the cause for much celebration after City Smoke was named the winner of the Carolina Cook Off edition of "BBQ Blitz" on Food Network thanks to Chef Adam Pugh's rendition of smoked pork chops with cheddar grits.
Back at the restaurant, the new stars of the show will be the rotisserie meats, thanks to a special machine from France called a Rotisol which does some seriously flavorful things to meat. Items like Rotisserie Duck Nachos; Chef Adam's ever-popular Carnitas and Rotisserie Smoked Chicken (pictured) are all main entrees on the reworked menu.
Pierre Bader, owner of City Smoke, says, "I call it more of a rejuvenation rather than rebranding. From the beginning, I think we were concentrating a lot on the barbecue itself but, quite honestly, we have equipment that's … like, awesome for rotisserie, so I decided to go more classic comfort food. We featured the rotisserie smack in the middle of the menu – like the chicken which we're serving with the potatoes and the jus – and then we added a leg of lamb, a duck, and other things to the rotisserie line up and … it's flying out – people love it."
Bader also mentioned that City Smoke worked to "soften" its image. Details like changing food focus from barbecue to smokehouse and choosing to call attention to a large, reworked cocktail and wine list rather than hone in on City Smoke's extremely large selection of bourbon helps the restaurant appeal to a wider audience. "We kept the barbecue aspect intact and just added all the rotisserie stuff. … I think it's doing very well. When you take it all together, it's really classic comfort food … We've been hearing a lot of people saying that it gives them more options." Bader's own new favorite option? The rotisserie chicken and potatoes.