Civic Duty
In this city, Foundation for the Carolinas is the never-too-loud, right-on-time, peace-keeping, people-loving, gap-filling group that's always watching over us. And now, with local leadership in a state of flux, we're relying on FFTC more than ever.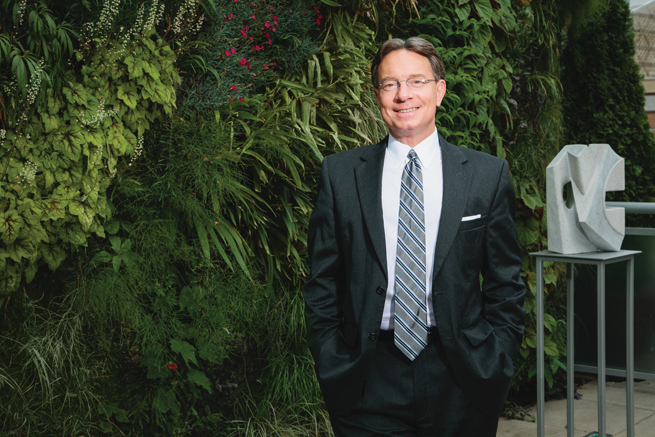 Four days after Thanksgiving in 1978, the Carolina Theatre, once the ornate and majestic centerpiece of Charlotte's Center City entertainment district, showed a kung fu movie, Fists of Fury, starring Bruce Lee. Then it shut its doors.
In the years that followed, homeless people used the 36,000-square-foot space for shelter. Redevelopment plans emerged, then fizzled. The city acquired the property in 1986 and a few years later stripped the theater of its ornamentation, cataloguing the pieces and storing them in the basement under the main stage. Through the 1990s and 2000s, all around the darkened theater, Charlotte's city center sprouted with new office towers, bars, restaurants, and museums. In the middle of it all, the Carolina Theatre remained untouched.
Last October, City Council members toured the theater in advance of a vote to award a bid for its renovation. They gazed at the colossal balcony, grand plaster arch, and terra-cotta trim. They knew the building had potential. They set out to choose a developer or nonprofit that would not just restore the theater's magnificence but turn it into what it once had been—a true community asset.
"We are giving somebody a jewel," council member David Howard remarked. "You want to make sure you give it to the right person."
Any kind of rebirth for the Carolina Theatre would be significant. But its resurrection as a public space marks it as a symbol of a deeper change in Charlotte's identity—an indication that the governmental and corporate institutions that once conceived and executed large projects for the public good aren't doing much of that anymore, here or anywhere. Increasingly, the tasks of creating American cities' long-term visions fall to people like Michael Marsicano.
Marsicano, a slight, bespectacled man of 57, is president and CEO of Foundation for the Carolinas, the Charlotte area's preeminent philanthropic organization. More and more across the nation, these organizations are tackling large-scale civic issues, such as historic preservation, at a time when the traditional corporate and governmental sources of leadership are ebbing.
Since its founding via a $3,000 United Way grant in 1958, the foundation has acted as a conduit for donors' assorted philanthropic gifts, investing money and goods where donors want them. But over the past five years, the FFTC has become more than a philanthropic bank. It's become a genuine civic leader—an institution with the will and influence to guide the creation and development of plans on such issues as transportation, affordable housing, education reform, and the environment.
In 2008, FFTC founded the Robinson Center for Civic Leadership, which serves as a clearinghouse for many of the foundation's efforts. The center's purpose is not to advocate for any particular policy position but to act as a kind of convener that can herd leaders from disparate interests into the same room and guide them toward solutions to big civic problems.
The center is playing that role as the Charlotte region makes its own uneasy transition. The corporate leaders who once envisioned the city's future and set it in motion—such as ex-Bank of America Chairman and CEO Hugh McColl and former First Union CEO Ed Crutchfield—are retired, and no one has taken their place. Local governments struggle with tight budgets left over from the recession. Once-stable boards are divided, and the state government is increasingly hostile to city interests. Among the institutions capable of guiding broad, long-term change in, say, Charlotte's affordable-housing policy or veterans' services, for now, Foundation for the Carolinas is about it.
"I think we have significant leadership issues right now," says Marsicano, who has led FFTC since 1999. Marsicano is soft-spoken and owlish, his dark-brown hair parted down the middle in a style appropriate to 1932, but he's no wallflower. He's built a reputation as a skilled leader and persistent fundraiser in his 24 years in the Queen City.
"We have gridlock, and the fact that we can't even get a (city) capital budget…," he says, trailing off. "So we're trying to figure out, what should our role be? Should it be convening leaders from multiple disciplines to talk about some of the things that are going on? We're trying to find our space on this, because we think there's a void there."
It's a tricky task. The foundation must exert enough pressure to convene and guide discussions but not so much that it overtakes what ought to be others' jobs. It must balance its civic endeavors with the more traditional, donor-guided philanthropy it continues to do. Which makes the foundation a default for long-range community planning, the kind of detailed, visionary work urban areas must do to prepare for inevitable change.
Public officials run for election every two or four years. CEOs answer to their stockholders every quarter. Community foundations can afford to look further into the future. What separates them from their family- and issue-based nonprofit cousins is their attachment to place. They honor the idea that a city or region is more than a collection of Zip codes and neighborhoods. It's a unit, and public life has to work or everyone and everything diminishes.
Community foundations began about a century ago, in an era when the very poor lived and worked in the shadow of the very rich in the nation's newly industrialized cities. The Cleveland Foundation was the first, founded in 1914 to serve that city's poor and low-wage factory workers, and others blossomed over the next few years. The roster continued to grow throughout the Depression, wartime, and postwar eras, along with a New Deal-fueled shift in the public's perception of government services such as schools and hospitals. The pattern stayed largely intact into the 1990s, with foundations serving merely as organizers and conduits for their communities' philanthropic giving, much of which came from the financial services industry.
Then, in 1991, financial services giant Fidelity Investments founded the Fidelity Charitable Gift Fund. That fund, which has grown into one of the nation's biggest charities, is a "donor-advised" organization, which means it disburses gifts to the charities of its donors' choice when directed. Despite Fidelity's nonprofit status, the fund operates more like a holding company, actively recruiting donors (who play the role of investors) and promising return on their charitable gifts along with their tax deductions. In its 22 years, the Gift Fund has granted more than $14 billion to more than 160,000 nonprofits.
"It was a wake-up call," says Gabriel Kasper, a San Francisco-based senior manager for the Monitor Institute, a think tank and consulting firm focused on philanthropy and social change. "Community foundations used to be the only game in town. Suddenly they had to compete for donors, and what began was a period when community foundations really focused on getting their acts together."
Kasper was one of three authors of a 2005 report that's become something of a lodestar for Marsicano and other community foundation heads. The report, titled "On the Brink of New Promise," advises foundations to lead rather than follow on large-scale public issues—education, housing, employment, community services, racial harmony—in their areas. Government services have generally shrunk since the 1980s, and corporate leaders have lost connections to their communities because of globalization. Foundations, the report argues, are the only established institutions that can fill the gap.
Marsicano and FFTC embraced the idea and took off. "Frankly, we were getting a lot of requests to be involved … and it was starting to get out of hand a little—meaning the volume," says Laura Meyer Wellman, the foundation's executive vice president. "We had to step back and say, 'Where can we truly add value, how, and to what end?'"
Marsicano learned early in life the importance of connecting people of different backgrounds. His father, Vito, was from upstate New York, the child of Italian immigrants; his mother, Christine, was a Southern belle from Alabama. Christine's parents were so appalled by her marriage to a Catholic Northerner that they refused to attend the wedding. They warmed up after Vito and Christine had their first child and named him Michael, after her father.
As a child, Michael spent most of his time with his father's close-knit family on Long Island, N.Y., but spent summers with his mother's family in Alabama, learning to knit the two disparate family traditions into one. He learned to play English horn and oboe, beginning a lifelong fascination with the arts. But a fleeting interest in medicine drove him to Duke University, where he earned a bachelor's degree in psychology in 1977 and a master's and doctorate in education, the latter in 1982.
In 1989, Marsicano moved to Charlotte with his wife, Leslie, to assume leadership of the Arts & Science Council. The job gave him access to the city's corporate titans, the men who were just beginning to plot Charlotte's growth during the 1990s and 2000s—McColl, Crutchfield, Duke Power CEO Bill Lee, and The Charlotte Observer Publisher Rolfe Neill, a huge arts supporter.
Marsicano learned how to build relationships with powerful people and ask for donations in good faith, backed by hard data and worthy causes. "There was never anybody I worked with raising money who was better prepared," McColl said in a 2008 Observer profile of Marsicano.
When William Spencer—only the second head of FFTC—announced his retirement in 1999, Neill recommended Marsicano. Under his leadership, the foundation has expanded its assets from $240 million in 2000 to more than $1 billion—a threshold the foundation crossed in March and one that boosted FFTC to its position as the 12th-largest community foundation in the United States.
That purse, combined with another $350 million in bequests from donors' estates in the next several years, allows the foundation to sustain itself for years to come, Marsicano says. The Robinson Center has its own dedicated donor base, from which the foundation has raised $330 million.
The challenge now, he says, is to use the money and influence to maximum effect.
To help people like Jason Del Pezzo.
In December 2011, Jason Del Pezzo was a 35-year-old Navy veteran addicted to crack cocaine, heroin, and painkillers. He stole from his mother to finance his habits, shuttling back and forth between her home in Sunset Beach and his hometown of New York City as his addictions deepened.
His troubles started a dozen years before that. He got into a bar fight while on shore leave in New York and fractured his skull. Painkillers helped. So he took more, then more. Finally, his mother told him: Get clean or plan on never seeing me again. "As far as I was concerned, he would have been dead to me," RoseAnn Bonanno says now. "Because he was going to be dead soon anyway." Del Pezzo decided to get clean.
His mother drove him from Sunset Beach to Charlotte and dropped him off at a ministry for the homeless and addicted. Del Pezzo landed a job and contacted a nonprofit, Charlotte Bridge Home, that helps veterans like him move from military to civilian life.
It's a difficult transition. Del Pezzo enlisted in 1998, when he was 22. He didn't know how to dress for a job interview or write a résumé. But Bridge Home's program director, a retired Army lieutenant colonel, set him up with clothes and references.
A little more than a year after his mother dropped him off in Charlotte, Del Pezzo was hired as a security officer at Carolinas Medical Center. He still works there. He's also taking nursing classes at Central Piedmont Community College. Eighteen months ago, he was anxiety-ridden and drug-addled, a self-described failure with no job prospects and minimal skills. Now, clean and sober, he wants to "get married, have kids, have a regular life." For the first time in more than a decade, that life seems attainable.
Del Pezzo is one of at least 55,000 veterans who live in Mecklenburg County. Thousands more are expected to settle in the Charlotte area as Iraq War vets grow roots and the war in Afghanistan winds down. Neither the city nor county has a plan to provide them with veterans' services to help them move from military to civilian life. "We are not prepared for them to return," Marsicano says.
So last year, Foundation for the Carolinas, through the Robinson Center, committed $50,000 to Bridge Home, an organization founded in 2011. Most of that money went toward developing a report outlining the scope of the veterans' services problem and detailing the ways Bridge Home wanted to help veterans like Del Pezzo learn job and life skills after discharge.
Since then, Bridge Home's corporate donor base has expanded from six to 45, and its client base has jumped from 50 to about 1,500. FFTC provides planning and consulting help as well, and it intends to help the organization extend its reach. "They helped us legitimize ourselves to the public," says Tommy Norman, an Army Special Forces veteran and Bridge Home's board chairman. "They've been everything you'd want in a community foundation and more."
Veterans' services is one of those challenges that creeps up on a city slowly, evading citizens' attention until it reaches a crisis point. Charlotte, like its counterparts throughout the United States, has plenty of challenges like that.
Affordable housing is a perennial problem for American cities. The issue continues to weigh heavily on Charlotte-area governments, which are trying to reduce Charlotte's homeless population, an estimated 2,500 adults and children. The foundation is working with city officials on a public-private rent subsidy program.
In public education, the foundation helped organize Project LIFT, an attempt to close the achievement gap in westside public schools, which have some of Charlotte-Mecklenburg Schools' highest dropout rates.
There are many more problems and no easy fixes. "Civic work is messy," Marsicano says, "and it takes time, especially in an era when you can't get things done if you can't get everybody on the train."
The future of the Carolina Theatre was brought to a vote in December. The City Council had competing bids for the renovation: one from Foundation for the Carolinas and one from the ARK Group, which developed the NC Music Factory near uptown. The council chose Marsicano and his group because, as council member Warren Cooksey said, "I feel more comfortable with the foundation."
So during the next 10 years, the foundation will renovate the old theater into a place for civic gatherings with weekend entertainment. The plan is for more than a standalone business devoted only to profit. The foundation wants to make the Carolina Theatre a cornerstone of a civic campus that includes Discovery Place, Spirit Square, the main library, and a new office building. The theater and complex would be "for the community," Marsicano said at the time. "It's that simple."
The vote was close, six to five. It was tied until David Howard—the councilman who'd said the theater had to go to the "right person"—was called in from home, where he was recovering from surgery, to cast the deciding vote. The minority votes were in favor of the ARK proposal, which included an offer to pay $500,000 for the building.
The majority votes went with the bidder they trusted.
The foundation's winning bid?
One dollar.