Clean Eating After Turkey Day
After all that feasting, you could use this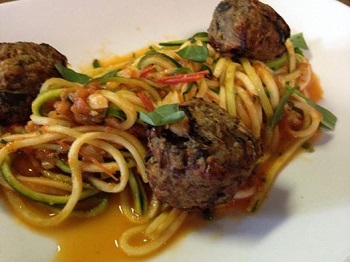 I'm sure we've all sufficiently eaten our hearts out this past weekend, and our tummies protruding over our waistbands are testament to it. Lucky for those of us in Charlotte, there are quite a few places to scrounge up the "warm and fuzzy" stick-to-our-ribs meals that won't add to our cholesterol levels after Thanksgiving.
Fern: If you're looking for a "heavy" and wintry meal, Fern's spaghetti and "meatballs" is sure to do the trick. Zucchini noodles form a lush bed for the faux meatballs, made of white beans and eggplant with spices. A tangy pomodoro sauce rounds out the whole dish. Still reminiscing about Thanksgiving? Try the butternut squash risotto, which comes dotted with cranberries.
Luna's Living Kitchen: While on the whole vegan and raw kick, head over to Luna's for a juice in several flavors and a living burrito. Sunflower seed "refried beans," cauliflower rice, plus classic guacamole, pico de gallo, onion, tomato, sprouts, and cashew sour cream are wrapped in a collard leaf for a truly (and oddly) meaty and delicious burrito.
Pinky's Westside Grill: A salad with a particular "meatiness" to it is hard to find, but Pinky's delivers. Try the Tahini Salad, which offers a lush bed of mixed greens, four falafel cakes, red onion, feta cheese, tomato, pepperoncini, and toasted sesame seeds. The whole thing is topped with tangy tahini dressing.
Zada Jane's Corner Cafe: Craving a sandwich that doesn't consist of turkey, stuffing, potatoes, or anything Thanksgiving related? Zada Jane's Green Mindmelt Panini has the answer with oven-roasted Portobello mushrooms snug in between spinach, zucchini, yellow squash, roasted red peppers, and fresh mozzarella, all drizzled with an herb vinaigrette.
Now get out there and eat healthy! At least for a few weeks until we start making holiday cookies and cakes.