Cleaning and Caring for Your Cast Iron Skillet (BONUS: Peach Crisp Recipe!)
Your cast iron questions answered.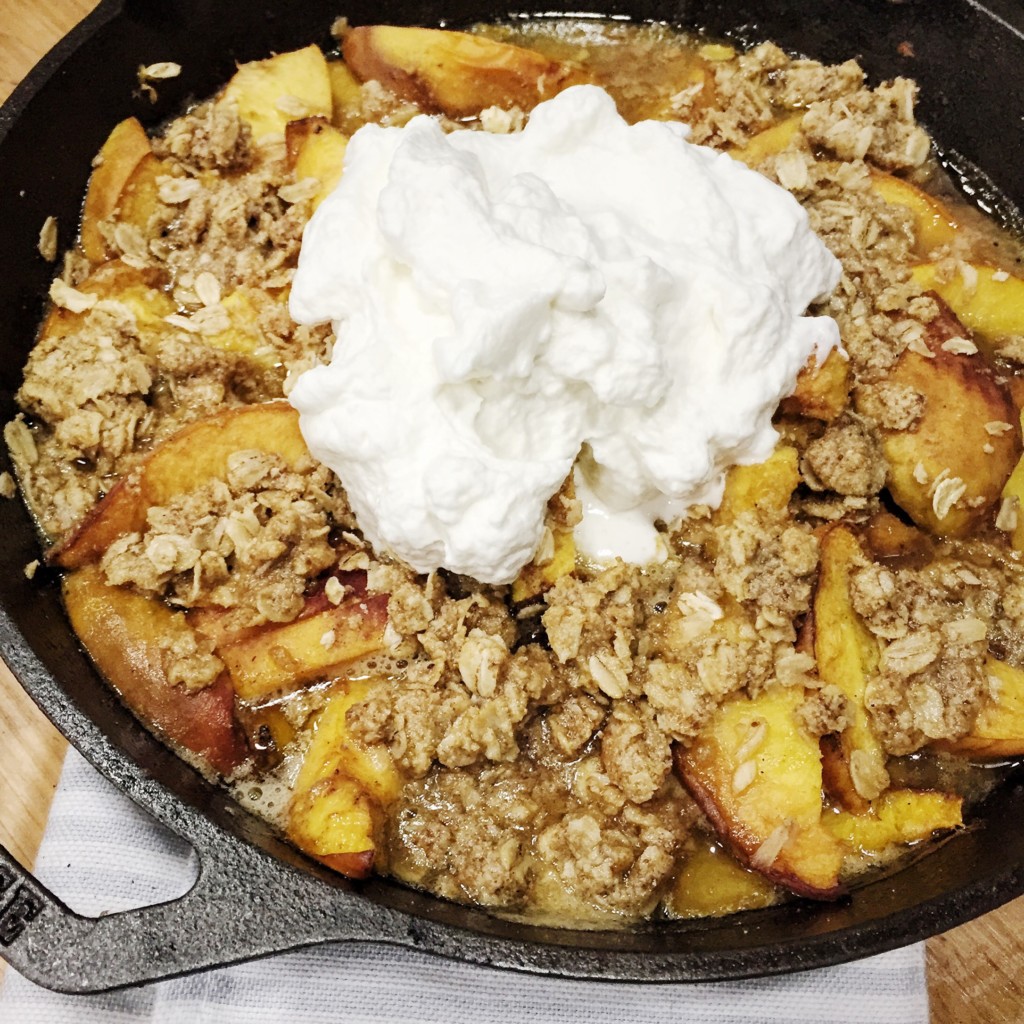 Cast iron skillets are some of the most highly revered yet mysterious cookware items inhabiting kitchen cabinets. General knowledge tells us that cast iron cookware will yield delicious foodstuffs. And for some cooking novices, that's where the cast iron know-how begins and ends.
To help debunk any misconceptions and resolve any fears about cooking with cast iron, we turned to Chef Alyssa Wilen (formerly Gorelick). She teaches cooking classes at every level at Chef Alyssa's Kitchen in South End, during which she often has her students use cast iron. Here's everything you need to know about cast iron skillets.
Seasoning Your Cast Iron
If you're new to the cast iron community, you may have heard somewhere that you need to "season" your cast iron. Seasoning a cast iron is important because the iron is porous in nature. Thus, it's not nearly as non-stick as your Teflon. Seasoning a cast iron is a baking process that helps lock oil into these pores.
The good news for newbies is that most cast irons come pre-seasoned nowadays. So, if you've recently purchased one, you can probably skip this step. Check the details on the packaging, though, to be sure.
Since cast irons last forever, a common scenario is the passing down of a cast iron from generation to generation. Most inherited cast irons do not need to be seasoned (they get better with age!), but if you either purchase a new one, want to re-season an old one, or spot any rust and need to re-season, here's how to do it:
Set the oven to a low temperature of about 200 degrees Fahrenheit. Wipe your skillet with a neutral oil; Chef Alyssa uses a non-GMO canola oil. Then place the oiled skillet in the oven for either 8-12 hours or overnight. That's it!
Cleaning Your Cast Iron
Caring for your cast iron is important if you want it to last long enough for you to pass it down to your kin. Cleaning a cast iron often stirs up many questions in those who use the cookware, but Chef Alyssa thankfully broke it down for even the most culinary-challenged.
Anytime you're cooking on your cast iron skillet, wash it out with just water while it's still hot. You can steam out any food remnants using this method. You do not need soap. Soap gets into those little pores and strips away the oil you worked so hard to bake into the iron. Once you're done rinsing, dry the skillet and wipe out with oil.
If there is no residue left behind or you can easily scrape out the bits, skip the washing step and simply proceed to wipe out the skillet with canola oil. Never clean the skillet while it's cold. However, if you left the food to sit in the skillet for a while, use a combination of oil and salt to help get the grub off.
Chef Alyssa recommends keeping a designated towel nearby for the constant wiping. She warns, "It will be gross," but it is convenient as much as it is necessary.
What to Cook on a Cast Iron
It all-purpose cookware, and it all comes down to personal preference. Cast iron is known for its infusion of great flavor, and it puts a crunchy crust on whatever you choose to cook on it. Some people with well-seasoned skillets will use their cast irons to cook eggs, but Chef Alyssa likes to stick to "anything you want a good crust on, like you would on a grill," such as steaks and chicken.
Cast irons are extremely durable and can be placed on a direct flame (think camping). They are also fantastic for easily transferring food stove-to-oven. Say you're making a thick cut of steak and it needs a little more time. You can simply stick the skillet in the oven to finish it off.
As far as what not to cook in a cast iron skillet, Chef Alyssa says it all really comes down to shape. She wouldn't cook something that would require the shape of a sauté pan. Of course, cast irons now come in a wide variety of shapes and styles, so your options for cast iron cooking are quite endless!
Speaking of using cast irons for foods you want a good crust on, here's a recipe courtesy of Chef Alyssa for you to try next time you get out the cast iron.
Cast Iron Grilled Peach Crisp
Serves 8
Crisp Topping:
1 cup old fashion oats
½ cup blanched almond flour
¼ cup coconut palm or brown sugar
½ teaspoon kosher salt
6 Tablespoons cold, unsalted butter, cut into small cubes
Combine the oats, almond flour, sugar and salt and stir to combine. Add the butter and toss to coat with the dry mix. Set aside.
Peach Filling:
10-12" Cast Iron Pan
6 ripe peaches, halved with seed removed
Cooking oil
2 Tablespoons honey
1 Tablespoon butter
½ teaspoon vanilla extract
¼ teaspoon almond extract
Pinch of salt
Heat a charcoal or gas grill on high to reach 400 degrees.

Brush the peaches with oil and grill, 4-5 minutes on each side until tender but not mushy. Remove onto a cutting board.

Place the cast iron skillet on the grill and allow it to heat. If using gas, reduce the heat on the grill to medium-high, about 350 degrees. If using charcoal, spread the coals out so they are not directly under the skillet.

Slice the peaches into ½" wedges, place in a bowl and toss with honey, butter, extracts, and salt.

Spread the peaches in the warm skillet and top with the oat topping. Close the lid and allow the crisp to cook for 15 minutes, or until golden brown and bubbling up the sides.

Remove and serve warm with whipped or ice cream.