#CLTArts Snapshot: Dine & Draw CLT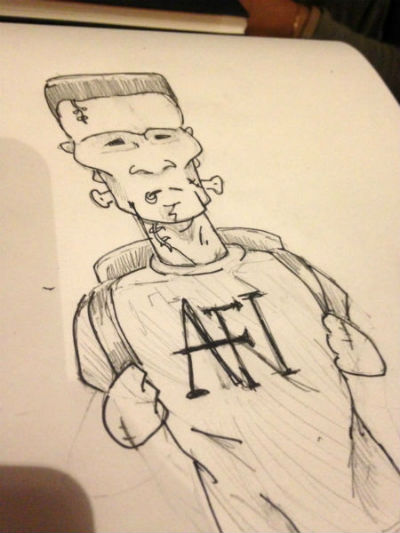 A FEW MEMBERS of the group are professional, working artists. Others are part-timers, supporting their passions with corporate jobs. And a few, like me, thought drawing and eating pizza sounded fun. This is Dine & Draw Charlotte, the monthly meet-up that invites anyone to show up, eat, and sketch. And it's growing with each meeting.
Designer Ashley Bennett started the group last year, adopting the idea from a meet-up she attended in Raleigh. After noticing that nothing quite like it took place in Charlotte, she decided to give it a shot. "I put it up on meetup.com and 10 people showed up to our first meeting," Bennett says. "And it just kind of grew from there. There were 40 people at the February meet-up. And that's more than usual. It's usually around 20."
The group's most recent meeting was Feb. 10 at Benny Pennello's in NoDa, the pizza spot with slices that look like cartoons themselves. At the beginning of the event, Bennett gave the ground rules, which basically consist of saying there are actually no rules at all. Bennett doesn't want a formal environment for the typical Dine & Draw Charlotte night, though she occasionally brings in artists to give demos or advice on process.
The relaxed environment encouraged scattered conversations across the tables at Benny P's. Some hopped around, taking a look at work being produced. Others talked process, preferred tools, and at this writer's table, even relationship woes. The vibe helps those that aren't as willing to share, she says. "Some people who love to draw are introverts," Bennett says. "Having it not be networking-based helps out with that. Some artists can go off and draw by themselves; others can go around and chat and not draw at all."
For Bennett herself, this group has been an encouragement. "I drew all the time as a kid," Bennett says. "Sometime in college and getting a job as a web designer, I just stopped. I got really nervous about drawing. Now, I feel more confident, and talking to each of these talented people has been so helpful. It's been about building a community."
Dine & Draw Charlotte's next event is March 9 at Red Clay Cider.