CMPD Gets a Handle on Twitter
It's a brave new world with social media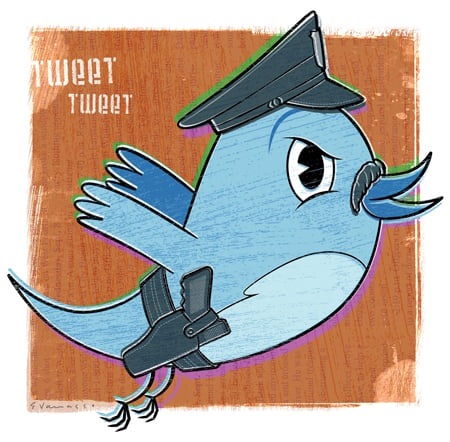 Charlotte cops have a new crime-fighting tool: a little blue bird.
Twitter and Facebook took flight years ago, but the Charlotte-Mecklenburg Police Department just recently embraced a social media policy, adding three pages to its War and Peace of a manual.
"We're in the twenty-first century," says Robert Tufano, with the CMPD Public Affairs Office. "We need to use twenty-first-century resources and communication tools."
The new policy comes in the midst of a CMPD social media pilot program, launched in 2010, and was modeled after those of the International Association of Chiefs of Police (IACP) and the FBI National Academy.
The CMPD selected the Eastway, University City, and South Divisions for its Twitter program because of their heavy residential makeup and strong community engagement.
One of three officers volunteering for the pilot, Marchelle Hoffman (known in the Twitterverse as @EastwayRA1), says she's learning about Twitter because she understands the tool's communication value. "Not a lot of people are comfortable calling 911," she says. "But a lot of people will use social media websites, where a person can go behind their phone or computer and still have contact with the police."
Common CMPD tweets include suspect descriptions, road closings, and information on community meetings, but officers have to be careful not to post anything that could carry legal ramifications, adds Hoffman.
Last fall, a homicide detective in Los Angeles—@LAMurderCop to his 4,769 followers (as of late March)—tweeted a picture of a victim's body at a time when the Los Angeles Police Department had no official social media policy.
"We have learned from other departments' mistakes and have been warned not to tweet certain things," says Hoffman. Those "certain things" include evidentiary information—officers can't post pictures of weapons or crime scenes, even with personal devices—and they can't comment on pending prosecutions.
Nearly 90 percent of police agencies use social media, a lot of them for monitoring, according to an IACP study. Just under half follow an official policy. Aside from limited time and personnel, departments without policies point to privacy and security concerns.
But because the sites are public, police often use the platforms in investigations. "I teach my students that they have no privacy in the public domain," says Dr. Joe Kuhns, associate professor of criminology and criminal justice at UNC Charlotte. "The police can use social media as investigative tools."
In March, the CMPD actively monitored tweets and Facebook posts following the murder of a Vance High School student, paying particular attention to gang-related threats. What they found enabled them to station two extra officers in several area high schools.
"I'm not going to publicize what strategies our officers and detectives employ during investigations," says Tufano. "But I can say we're always working to gain information that may help solve or prevent a crime."