CO Coming Soon
The Asian-inspired eatery targets later this year to open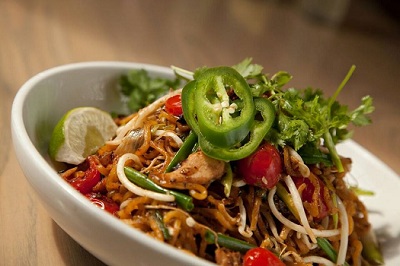 With locations already in Savannah, Myrtle Beach, and Charleston, Charlotte is the furthest inland that CO will have an eatery. The restaurant, focusing on Pan-Asian cuisine but honed in on Vietnamese specialties, will open in the Park Road Shopping Center next to Omega Sports in December or, hopefully, ahead of schedule in November.
Charlotte already has a handful of Vietnamese dining options such as Saigon Palace, Viet-Thai Noodle House, Vietnam Grille, and Doan's, but CO may bring a more stylish approach to the often rustic and down-home pho and banh mi options.
CO, which means "feast" in Vietnamese, will also offer sushi and an extensive bar, plus communal tables so you can get to know your neighbors. CO's three other locations currently offer live music, happy hour appetizers, and drink specials, as well, depending on night of the week.
The menu is split into several categories, including dumplings, small dishes, pressed sushi, and broth noodles. Dishes like curry laksa with shrimp, shredded chicken, rice noodles, shredded cucumber, Thai basil and baby bok choy together in a coconut broth as well as the bun xao salad with rice noodles, cilantro, and pickled carrots are sure to bring an exotic flavor to Charlotte's dining scene.