Cody Zeller on Hornets Camaraderie During COVID, His Kicks for Kids Program
The veteran center spent the past year building out his foundation, Like A Child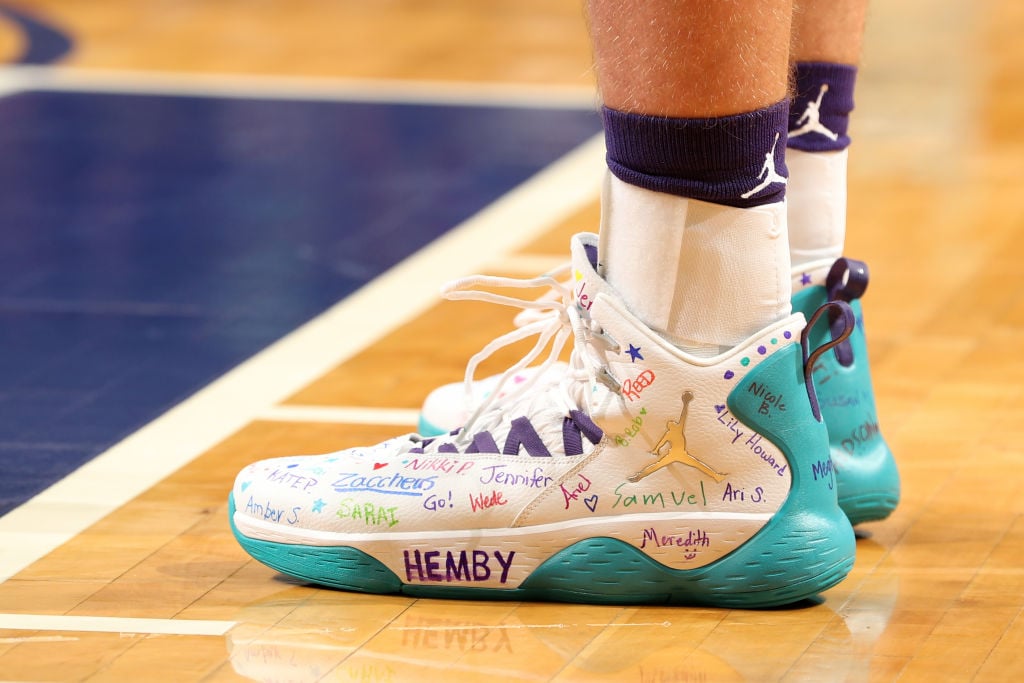 LIKE MOST OF US, Cody Zeller had a little more time on his hands last year. The NBA season paused in March, and the Charlotte Hornets weren't invited to the play-in tournament inside the Orlando Bubble in summer. So the veteran center turned his full attention to Like a Child, the charity he founded in late 2019.
The name is a both a Biblical reference and a nod to the 6-foot-11-inch Zeller's reputation as "a big kid." Its primary program is Kicks for Kids, in which the 28-year-old partners with nonprofits to design Jordan Brand shoes. He then wears those sneakers during games and, along with a $15,000 grant, donates them back to the groups to auction off. The shoes he plans to wear against the Golden State Warriors at Spectrum Arena on Saturday will benefit Make a Wish Central & Western Carolinas.
In a Zoom call with Charlotte magazine, Zeller shared more on his vision for the foundation—and gave some perspective from the inside of this exciting Hornets season. Read our Q&A below, edited for space and clarity:
The first time I saw a pair of your Kicks for Kids shoes was on Instagram in December. You were posting from a hospital bed after hand surgery, and you said the shoes gave you perspective during an otherwise depressing Christmas. How does giving back anchor you during a NBA season, with its ups and downs?
I think when I first came into the league, I wasn't really sure where I wanted to put my time and resources. … My rookie year, the veteran players put Mario and Luigi costumes in the two rookies' lockers and made us visit a children's hospital. So we visited [Novant Health Hemby Children's Hospital]; it was my first time going to the Children's Hospital.
I thought that it was going to be a little tough to see, maybe a little depressing or dark. But it was very much the opposite: The kids are so joyful, and they're singing and dancing. It puts things in perspective for me that, you know, a broken hand or a twisted ankle, whatever it is, in the big scheme of things, isn't that big of a deal. So that was the whole kind of the start of the Like a Child foundation. And as I continue to work on, you know, just day-to-day stuff with the organization, sending emails or working on the next pair of shoes, it brings you right back to the place of: This is what's really important. It's about giving back to kids and helping others.
View this post on Instagram
You work with artist Ryan Bare on the Kicks for Kids program to help take the vision of the kids in these groups and make them a reality. Why was it important to you to work with a local artist?
I pinpointed that I wanted to help out kids in some way, and I wanted to do something unique. I have a couple of friends on the Panthers who had done work with cleats, but no one in basketball here had done anything like that. Ryan, being a guy right here in town who has worked with those NFL players, seemed like the right guy. And he's crazy, crazy talented. So I got a hold of him, and I sent him an idea for our first pair of shoes, which our very first one was the Big Brothers, Big Sisters. He's a local guy, so he really understands the city. I give him the freedom to do whatever he wants with each pair after we get input from the organization we're helping.
The organization helps groups back home in Indiana and Charlotte. How has your relationship with this city evolved over time?
My parents might not like this, but Charlotte feels like home to me. I bought a house here a few years ago, and it's crazy, I've been here 8 years now. When I got drafted here, it was strange: I grew up in a small town in Indiana, of 12,000, and went to school in Indiana and never really left home. I was kind of intimidated by Charlotte, but it doesn't feel like a big city at all. The weather is usually better than Indiana. Yeah, it was a little cold here, but my parents had half a foot of snow. I love being able to give back (at) home here in Charlotte and to do that for Indiana as well.
You began in Charlotte as a Bobcat and are now a veteran Hornet. There's a certain momentum to this season. Do you feel that? Or is it harder to when you're on the court and the seats are empty?
We do feel it, when we're doing interviews, appearing on radio, or we're on social media. But it's just a shame fans aren't in the (stands) right now. We've always had great fan support, but you're right, there's this excitement with us playing well right now—and 'Melo [Ball], Gordon [Hayward], and the other guys arriving. There's been a handful of games where we're walking off the court, looking at each other, and saying, "Man, imagine how good the crowd would have been tonight." Especially with our win over the Brooklyn Nets and the Bucks. We've had some great home wins.
How does forming a camaraderie with those guys even work right now?
Yeah, that's a big part of having a rookie and being a veteran, forming that bond. But essentially, with COVID, we can't do any of it. [Laughs.] It makes it really tough. We can't go to restaurants; we can't even socialize, essentially. In the arena, they have our locker room split into two locker rooms to keep us more distant from each other. We get our meals to go. About the only time that we get to spend together is on the court. And even then, practices are a little bit shorter. They want to keep us fresh for the season. But as the season has gone on, you get to know each other pretty well, just in the game. But those guys have been great, and they're easy to get along with.
So when wearing the Kicks for Kids shoes in the game, does anyone ask about them?
Oh, many times. A lot of the opposing players do. Even the refs.
Does that mess up the momentum at all?
It does mess with my head a bit. I'm trying to beat you. I'm trying to, you know, stay focused on the game. I have this intensity, and then they asked about the shoes. So once again, it's kind of putting things back into perspective. It's a quick reminder of how much it matters, even if it is in-game.
Zeller says the group is accepting applications for this season of the Kicks for Kids program through March 12. More info here.