College Town Travel: Athens
A writer's old college town is still fun years later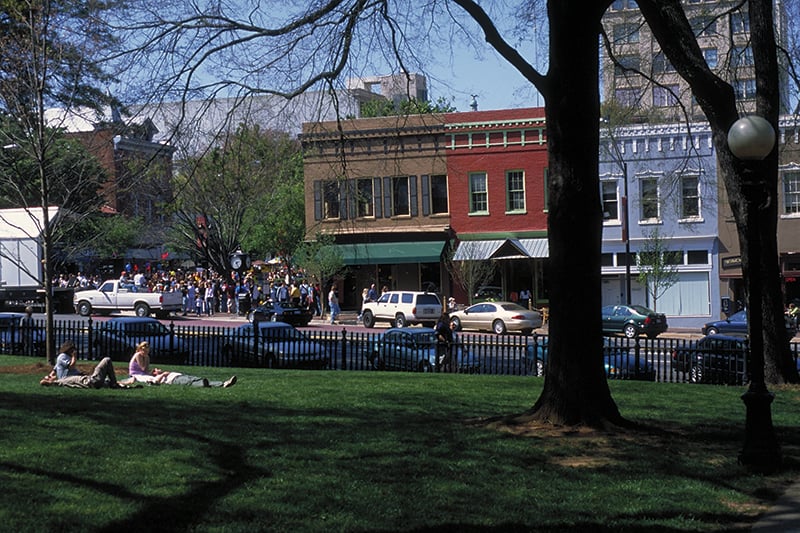 ATHENS, GEORGIA, is one of the best places in America to spend a weekend you might not completely remember. If you want, you can wander the downtown bars—more plentiful than New York bodegas—and knock down Fireball shots until you are out of money and common sense. But let's say you have a mortgage, a car payment, a desire to return to your job on Monday without a skull-cracking hangover. In other words, let's assume you're an adult. Good news: Athens is a fun weekend for grown people, too.
I'll admit to some bias here, because I spent four of the best years of my life in Athens as a student at the University of Georgia. When I go back, I see the shadows of my old hangouts from the '80s (R.I.P. my favorite restaurant name of all time, the short-lived deli/stir-fry joint Chow Goldstein's). But most of the history is still alive. On North Campus, across Broad Street from downtown, the buildings date as far back as 1806. And if you come through the Arch at the main entrance to campus, the first of those old buildings is the Holmes-Hunter Academic Building, renamed for Hamilton Holmes and Charlayne Hunter (now Hunter-Gault), the brave black students who integrated the university in 1961.
My favorite thing in Athens is that walk from downtown through North Campus and down the hill to Sanford Stadium, which seats 92,746 fans when the mighty Georgia Bulldogs are on the field. (Please do not ask me, or anyone in Athens, about the national championship game last year.) Across from the stadium are the Tate Student Center and the campus bookstore, where you can get pretty much anything with a Bulldog logo on it: official
UGA hand wipes, just $3.95!
You can spend a fine weekend exploring the university and downtown, but if you have time, venture out into the Classic City a bit—maybe to Five Points, home of several top-notch restaurants and pubs, or Normaltown, where the B-52's hung out back when they were broke college students. If you're ambitious, take the half-hour drive south on state Highway 15 to the Iron Horse. It's a 12-foot-high, modern art sculpture that was installed on campus in 1954; students hated it so much that a UGA professor moved the thing out to his farm. (It's a tradition for students to go out to the Iron Horse late at night and … do what college students do. Like study. Yeah, that's it. Study.)
It's hard not to feel a little Dazed and Confused vibe when you visit your old college town—you keep getting older and the students stay the same age. My friends and I don't have the desire to stay out all night anymore, but it turns out Athens is also pretty great in the daytime. Especially when you don't have to study for an exam the next day.
---
STAY
Hotel Indigo is walkable to the campus, but out of the way of the late-night crowds. The rooms are sleek and artsy, with concert posters from Athens bands like Widespread Panic on the walls.
EAT
Last Resort Grill opened as a music club in the '60s—I remember seeing bluesman Clarence "Gatemouth" Brown here in 1983. Now it serves up Southern-with-a-twist dishes in a setting that works for a romantic dinner or a big brunch with friends.
DO
There ought to be a historical marker at Wuxtry Records, because this is where employee Peter Buck met customer Michael Stipe in 1980; they added Mike Mills and Bill Berry to form R.E.M. and gave the Athens music scene worldwide attention. Wuxtry has been working this corner for more than 40 years, selling vinyl and then CDs and now vinyl again. It's creaky and full of obscure stuff, and every time I walk in there, I walk out with an armload of music.