Comida's Farm-to-Table Mexican Cuisine
Plaza Midwood restaurant packs freshness and drama into small bites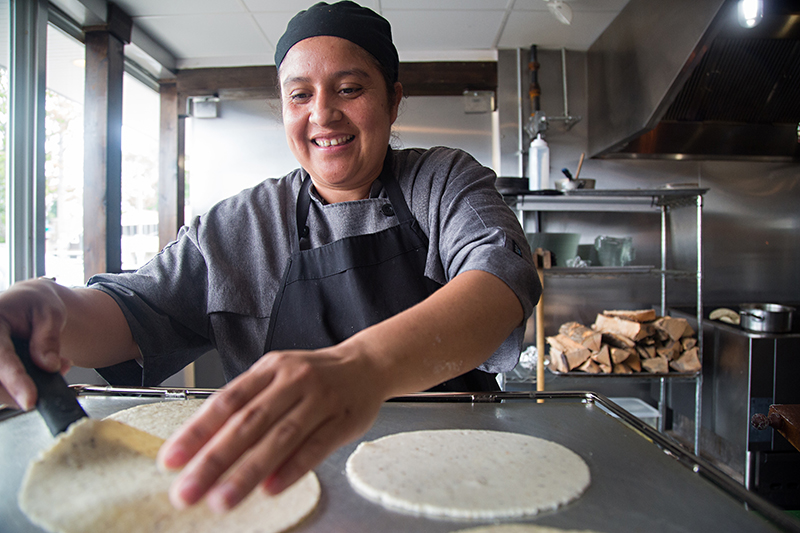 FOR SOMETHING so physically unremarkable, this gray stone structure sure has captivated us. For more than 50 years, the little rectangular building at the corner of Commonwealth and Thomas avenues in Plaza Midwood was home to Penguin Drive-In and its no-frills interior, burgers, and fried pickles.
Above, middle: octopus is paired with grapefruit.
Above: The Machete is made with house-squeezed tangerine juice.
It was also home to the Penguin's long, messy collapse. I'll spare you the details, but it was the kind of story that Charlotte made into A Thing. You know, a TV-trucks-parked-outside-for-days kind of deal. We loved the Penguin—but we loved the drama even more.
So Comida, Alesha Sin Vanata's modern, Mexican-inspired concept, drew extra attention in the buildup to its opening this spring. Just like at Vanata's other restaurant, Myers Park's littleSpoon, the menu is full of elevated takes on familiar dishes.
Also just like at littleSpoon, the music is carefully curated and unexpected—no mariachi here. Comida plays hits from the 1970s and '80s (think Chicago, Earth, Wind & Fire, and Fleetwood Mac) that will prompt diners of a certain age to involuntarily sing along while they wait for a drink.
The bar program focuses heavily on tequilas and mezcals. The Machete ($14) looks like an adult snow cone—bright orange from house-squeezed tangerine juice but smoky from the mezcal. I drank two, quickly, while munching on chewy chips and an incredibly fresh salsa ($5).
A particular point of pride for Comida is the tiny freezer in the kitchen; it illustrates how fresh the restaurant's food is. The quality of the ingredients shows in solid dishes with bright, clean flavors. Tacos ($3-$5) are tasting size—three or four bites each—with steak, chicken, or seafood set on house-made tortillas. The chorizo, which is also made onsite, is a spicy counterpart to avocado, green salsa, cilantro, and onion. We were impressed with the octopus ($13), which was small but expertly cooked and paired with grapefruit, charred avocado, raw cucumber, radish, and onion that complemented the charred, yet tender, mollusk.
The size of many of the small plates and composed dishes makes them better suited as snacks to go along with drinks. Diners expecting heavy plates piled with food—as is the case at many Mexican-American joints in Charlotte—will be disappointed. Trying to make a meal out of those sections of the menu will make your tab multiply quickly. If you're starving, jump straight to the back page of the menu and pick the carne asada ($27) and refried lentils ($6).
As you finish your cocktail and take the last bites of your food, don't be surprised if you have a hard time remembering the Penguin. There's a different kind of drama going on inside this little building now, and this time, it's on the plates.
COMIDA
1205 Thomas Ave.
980-498-6576
Shared plates: $4-$13
---
This article appears in the June 2016 issue of Charlotte Magazine
Did you like what you read here? Subscribe to Charlotte Magazine »
---