Community Kitchen
Where food truck owners and budding chefs can rent space to grow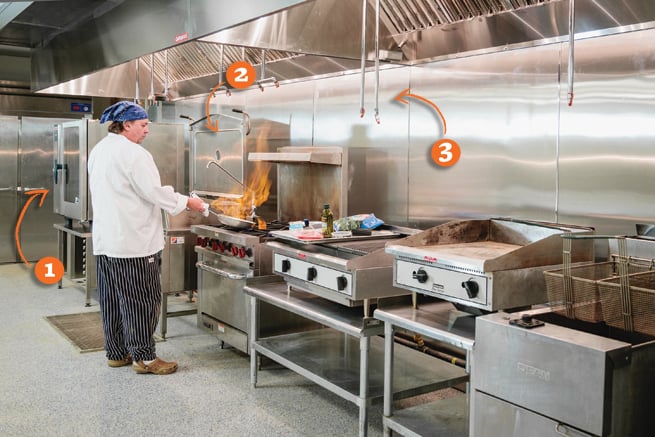 When Casey Brawley decided to sell his homemade pimento cheese to grocery stores, he discovered that he'd have to drive to Asheville for the closest large-scale commissary kitchen. Dismayed by the distance and encouraged by other Charlotte-area food entrepreneurs who were also making the commute, the co-owner of Penny's Pimento Cheese opened the 5,000-square-foot Carolina Commercial Kitchen in March. "It's a one-stop shop for food truck owners, caterers, or people selling food products at farmers markets or restaurants," Brawley says.
Located on Latrobe Drive north of Cotswold, kitchen space is available for rent by the hour or long term. There's a wet kitchen, bakery, packaging area, walk-in fridge and freezer, and dry storage area. Cooks can dump dirty water, buy ice and propane, store food, and wash dishes. Budding entrepreneurs can share contacts to help get their products to market. "It's a space to get small food businesses up and running," Brawley says.
But the space isn't limited to culinary pros. Anyone can bring a recipe and pay by the hour to consult with a chef, and a classroom will host nutrition and business workshops.
Eventually, Brawley hopes to expand the kitchen to 12,800 square feet and open new commissary kitchens in Raleigh, Greensboro, Winston-Salem, Wilmington, Mooresville, and Columbia, S.C.
"This is the coolest toy in the kitchen," Brawley says. The computer screen on the combination oven prompts you to choose the kind of food you're cooking, how it should be cooked and when it should be ready—then the oven does the rest. "You can put a dozen 25-pound turkeys in here and the oven will hold them at a perfect 165 degrees until you return in the morning."
1. Ideal for large quantities of food, the tilt skillet can be used to braise meat or simmer a big batch of tomato sauce. When you turn the wheel, the skillet tilts, allowing liquid to pour through a lip and collect in a pot. Excess liquid can also be dumped directly into the drain below.
2. The gas range has ample space to heat many pots at once. Fire-suppression nozzles are suspended over every flame in case of emergency.
3. Tom Landers (pictured), executive chef at the kitchen, will teach cooking classes and help budding entrepreneurs figure out how to mass-produce their recipes.
Watch an exclusive inside look at Carolina Commercial Kitchen