Community Supported Art Program Enters 4th Season
50 shares go on sale Tuesday, February 3rd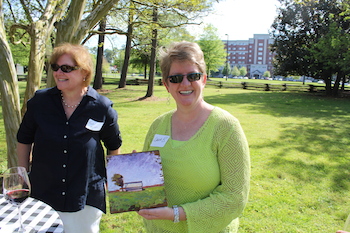 Tuesday morning, 50 people will purchase nine pieces of art for $500. They won't receive any of the art right away. They haven't even seen it yet.
As part of the fourth season of the Arts & Science Council's Community Supported Art program, 50 shareholders will receive the art in stages, one-third at a time. At each pick-up event, they'll receive not only locally made pieces to add to their home collections, but they'll also meet the artists, interact with other collectors (both experienced and novice), and establish relationships that are necessary to build and grow the community arts scene.
The Arts & Science Council (ASC) started the Community Supported Art program in fall 2013. It's modeled after a similar program in Minnesota. The program works much like a community supported agriculture program, where people purchase shares at the beginning of the growing season and then receive boxes of produce at set intervals.
A panel of jurors involved in the visual arts (curators, gallery owners, fellow artists, collectors) select the nine local artists who will each create 50 pieces of art. Each artist will receive a $2,000 commission. The artists vary in style and media. This season's lineup includes painting, fused glass, visual 3D, photography, wearable art, mixed media, stained glass, and pottery. One benefit of the program is that it exposes patrons to artists and styles that they might not ordinarily choose.
"We have a wonderful variety of disciplines represented in this class," says John Horne, ASC's program director for cultural and community investment.
Each pick-up event takes place at a cultural venue that shareholders might not have experienced before or might not visit regularly. This season's locations are Discovery Place's Education Studio (March 25), Wing Haven Gardens (April 22), and Clayworks (May 18). The events involve food, drinks, and performing arts along with the artwork reveal. Birdsong Brewing Co. will serve as a sponsor again this season, providing local beer for the occasions.
"Their support of not only CSA, but the cultural sector in general has been greatly appreciated," Horne says. "We try to highlight all aspects of Charlotte, to get a taste of everything and how they all intertwine."
Shares for the fall season of the Community Supported Art program sold out in less than two hours. About 40 percent of the participants each season are repeat shareholders. Some people have created a competition out of purchasing the first share. The ASC staff has to break it down to the second to let them know who was first.
The race is on for the spring season at 10 a.m. Tuesday.