Confessions of a Shopaholic
The Queen City bride's guide to wedding dress shopping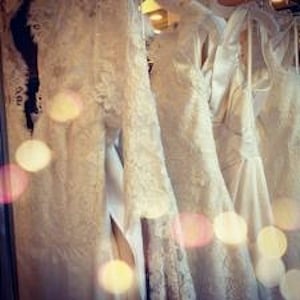 For eager brides to-be, dress shopping is often one of the first tasks completed. And for those getting married within six months to a year, it absolutely should be. So for our local brides ready to make the retail plunge, we've compiled a complete list of dress boutiques in Charlotte and the surrounding areas. And have no fear, the possibilities are endless. So grab your nearest and dearest… It's time to go shopping!
Hayden Olivia
The Specs: New York loft appeal with exposed brick and shimmering hardwood floors. Quaint but well-stocked with a range of designers and prices.
Brands: Blush by JLM, Modern Trousseau, Anna Maier, Ines Di Santo, Jim Hjelm, Tara Keely, Anne Barge, Coren Moore Bride, Little White Dresses, Hayley Paige, Informal Bride
221 S. Tryon St. Charlotte, NC (704) 333-0377
By appointment: Tues-Friday, appts 11am-6pm; Saturday, 9am-6pm; closed Sunday and Monday
New York Bride & Groom
The Specs: Convenient for last-minute shop goers, spacious fitting rooms. Also offers tuxedo rental.
Brands: Allure Bridal, Allure Couture, "Alyne" by Rivini, Enzoani, Justin Alexander, Mori Lee, Maggie Sottero, Private Label by G, Pronovias, Sottero & Midgley, WToo, La Sposa
4618 South Blvd. Charlotte, NC (704) 529-6400
No appointment needed: Hours: Mon-Thursday, 11am-8pm; Fri. & Saturday, 10am-5pm; closed Sunday
J. Major's
The Specs: Sprawling space with floor to ceiling windows, lots of natural light for trying on dresses.
Brands: Alvina Valenta, Amy Kuschel, Aria Bridal, Augusta Jones, Claire Pettibone, Dolly Pearl, Erin Grey Couture, Jenny Yoo Bridal, Lazaro, Lea-Ann Belter, Lula Kate, Martina Liana, Mikaella, Nicole Miller, Palazzo, San Patrick, Watters Brides, Victor Harper, W Too Brides
2400 Park Rd. Suite G (704) 372-0082
By appointment: Monday, 10am-5pm; Tuesday, 10am-8pm; Wed., 10am-5pm, Thursday, 10am-8pm; Friday, 10am-5pm; Saturday, 10am-6pm; closed Sunday
Lineage Bridal
The Specs: With ornate chest-like doors that open up to a collection of gowns, it feels like shopping a bridal closet. Tiny space, but well worth the visit.
Brands: A mix of new and steeply discounted consigned and sample gowns including Ramona Keveza, Vera Wang, Christos Arabella, more.
621 McNinch St. Charlotte, NC (704) 376-3006
By appointment: Sunday-Monday, 11am-5pm
Mecklenburg Bridal Gallery
The Specs: Ideal layout and extensive collection of dresses located just outside of Charlotte.
Brands: Anjolique, James Clifford Collection, Jasmine Couture, Watters Brides, Paloma Blanca, Casablanca Bridal, Eden Bridals, WToo Brides, Anais Bridal
9101 Pineville-Matthews Rd. Pineville, NC (704) 556-7789
By appointment: Monday & Thursday, 12pm-8pm; Tuesday & Friday, 10am-5pm; Sat, 10am-5pm; closed Wed & Sun.
The Lily Rose
The Specs: Charming boutique with picturesque facade. Well-edited selection of gowns.
Brands: Watters & Watters & Seahorse, Tara Keely, Casablanca Bridal, Kelly Chase Couture, Jade, Erica Koesler
Jetton Village Shopping Center 19826-D North Cove Rd. Cornelius, NC (704) 895-1007
Tues, Wed. & Friday, 10am-7pm; Thursday, 12pm-7pm; Saturday, 10am-4pm, and by appointment
Poffie Girls
The Specs: Unoverwhelming showroom (most are kept in the storeroom) of gowns housed in a 1917 plantation home. Feels quintessentially Old South.
Brands: Paloma Blanca, Mori Lee, Kitty Chen, Maggie Sottero, Essence of Australia, Enzoani, Blue by Enzoani, Casablanca Bridal, Sottero Mid, David Tutera, Angelina, Justin Alexander
512 South New Hope Rd. Gastonia, NC (704) 866-0198
By appointment: Mon, Tuesday, 10am-8pm; Wednesday, 10am-5pm; Thursday, 10am-8pm; Fri-Saturday, 10am-5pm; Sunday, 1pm-5pm
Anjolique Bridal
The Specs: Large shop near Lake Norman with very extensive stock of brands.
Brands: Allure, Anjolique Exclusive, Allure Exclusive, Allure Couture, Amalia Carrara, Eve of Milady, Ian Stuart, Enzoani, Enzoani Blue, La Sposa, San Patrick, Demetrios Sposabella, Demetrios Illusions, Demetrios Ilissa, Demetrios Ultra Sophisticates, Demetrios Sensualle
Birkdale Village 16710 Birkdale Commons Pkwy (704) 892-6450
No appointment needed: Mon-Saturday, 10am-6pm; Sunday, 1-5pm
Classic Bride & Formals
The Specs: A converted home on Main Street. Feels very welcoming.
Brands: Allure, Ella, Essence, Matthew Christopher, Mia Solano, Nicole Miller, Sottero, Midgley
20910 Catawba Ave. Cornelius, NC (704) 896-3655
By appointment: Tues-Friday, 10:30am-5pm; Saturday and after-hours, by appointment only; Sun-Monday, closed
Nitsa's
The Specs: For the girl looking for the most well-known top brands, this is the place to go. Conveniently located next to Phillips Place for easy post-appointment lunch options.
Brands: Vera Wang, Amsale, Rivini, Pronovias, Alyne, Tulle New York, Jorge Manuel, Monique Lhuillier, Christos, Judd Waddell, Bliss by Monique Lhuillier, Keneth Pool, Anna Maier, Ulla-Maja Couture
6700 Fairview Rd. Charlotte, NC (704) 553-2486
By appointment: Mon-Saturday, 10am-6pm; closed Sunday
Top photo: c/o Hayden Olivia bridal