Considering the Panthers' Past, Present, and Future
What will ownership under David Tepper mean for the Carolinas?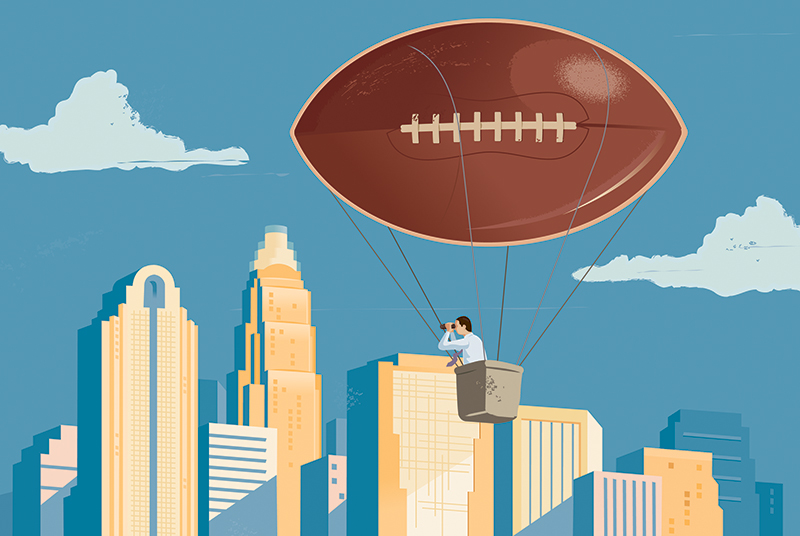 IN OCTOBER 1993, Richard Vinroot's bid for re-election as mayor hinged on Charlotte's bid for an NFL franchise. He'd spent three years as an outspoken advocate, supporting multiple efforts to use city money and resources to help Jerry Richardson pursue a team for the Carolinas.
Too many times, according to his opponent, Ann Hammond. A community activist, Hammond backed the franchise bid, but she believed a mayor should focus less on big business and more on neighborhood-level issues. And there were plenty of those, namely the city's murder rate, which hit an all-time high that year at 129 people killed, including two police officers.
Late in October, as the NFL's decision neared, political observers speculated that Vinroot could lose if the league went somewhere else. Vinroot approached his neighbor Hugh McColl, the CEO of Bank of America and Charlotte's biggest cheerleader.
"Hugh, she's blasting me, and she's getting cheers. I think she could beat me," Vinroot recalled saying then, in an interview I had with him last year for a story about McColl. "And he said, 'Richard, you don't need to worry about it. The bank has the loans for most all of the league owners. They have to say yes.'"
The response was classic McColl—sharp, witty, cocky, and true.
A few weeks after that conversation, on October 26, 1993, the NFL awarded the franchise to Charlotte. Vinroot put on a Panthers shirt and grinned for cameras at the celebration. In terms of local politics, it was the equivalent of the "October Surprise" that seems to happen toward the end of every presidential campaign. Vinroot mopped up 67 percent of the vote in the election a week later.
The Panthers' arrival remains one of the most important events in city history, a jolt of happiness in a tough year that helped bring plenty of economic growth in the team's first couple of decades.
This season, 25 years after that autumn of 1993, feels like the beginning of the Panthers' Phase 2.
It's hard to forget what took place during 50 hours last December: First, on a Friday, the team announced it was investigating owner Richardson for workplace misconduct; then it turned the investigation over to the NFL; then Sports Illustrated, with local freelance writer Viv Bernstein on the co-byline, ran an investigative story outlining four instances in which Richardson had settled sexual misconduct claims and one more for a racial slur; and then, around 8 p.m. on Sunday, the team announced Richardson would be selling the team.
Six months later, in June, the claims received another level of verification when an independent investigator found nothing to discredit them, and the NFL handed Richardson a league-record $2.75 million fine.
So much happened, you could almost forget the season was also marred by quarterback Cam Newton answering a Charlotte Observer female reporter's question by saying, "It's funny to hear a female talk about routes."
As much as any city in the country, Charlotte looks forward. But if last season is any indication, momentum and goodwill can crumble quickly.
So here come this year's Carolina Panthers, under new owner David Tepper. Not a local group of businessmen. Not Diddy. Not Brooklyn Decker and Andy Roddick. Not Steph Curry. But a hedge-fund billionaire who bought the team for a league-record $2.2 billion. Tepper is by all accounts a straight-talking guy who's willing to swerve, try something new, and listen to different opinions. In May, he gave the commencement address at Carnegie Mellon, and in a small moment that indicates he's not afraid to correct himself and apologize, he said, "You guys, you students—is it okay to say 'guys'?" the Washington Post reported. "Students, girls, guys—just guys, girls, whatever. You students. Sorry."
The people who built Charlotte all those years ago, led by McColl, were confident but willing to be humbled, flawed but always trying to improve, rich with a vision to get richer.
Tepper says he wants to keep the team here. In his introductory press conference, though, he emphasized the "Carolina" in the team's name and said, "How many are there? That's right, there's two of them," and suddenly it was possible to imagine a stadium in Charleston or Greenville in South Carolina. Regardless, it's certain that he'll want to upgrade or replace Bank of America Stadium. If that process goes smoothly, we should have the team for another generation.
So as national outlets wonder whether Tepper will change the NFL or the NFL will change him, the question locally is whether he's just taking ownership of a football team, or joining a long line of businesspeople who've assumed responsibility for the city's future.