Cooking with Chef Alyssa
These classes offer tips, recipes, and techniques to take back to your own kitchen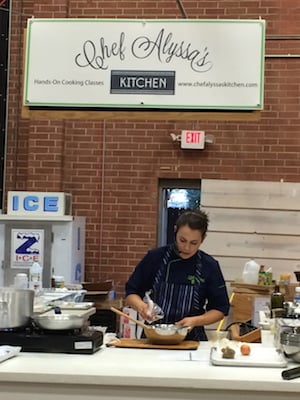 On a Wednesday evening in South End, Chef Alyssa Gorelick prepares for the night ahead. While restaurants around her are in the throes of dinner service, she seems calm. The places are set. The prep work is done. And she's stirring together an appetizer for the dozen people strolling into Atherton Market.
Tonight Gorelick is as much a teacher as a chef. And the 12 people arriving are her students. In August 2013, Gorelick and her boyfriend, Andrew Wilen, started Chef Alyssa's Kitchen. Wilen has a background in marketing and event planning. Gorelick, a 2005 graduate of The Art Institute of Charlotte, has cooked in several restaurants around town and around the world. Now she finds her cooking process on display as often as the end result. She and Wilen offer multiple hands-on cooking classes each week. Gorelick also makes regular appearances behind a stove on local TV news segments and at area festivals and farmers markets.
Each cooking class has a theme. Tonight is Spanish tapas. Students receive recipe books with four dishes (listed in Spanish and English): garlic shrimp, prosciutto-wrapped dates stuffed with almonds and goat cheese, potato-and-salt-cod fritters, and chorizo "empanadillas."
Students sip on their wines and beers of choice (it's BYOB) as Gorelick demonstrates the first few steps. She goes over basics, such as working with the tabletop burner and the proper way to chop garlic (gently, so you don't lose all of the oil). Then she works her way through the recipe. She pauses when identifying certain ingredients to point out the stalls they came from in the market — shrimp from Lucky Fish, chorizo from Windy Hill Farm. Once she goes through a few steps, she stops, and the students attempt to mimic her motions.
Gorelick, her assistant (who recently graduated from the pastry program at Central Piedmont Community College), and Wilen make their way through the tables, monitoring and suggesting and complimenting. Gorelick's cheerful personality eliminates fears and uncertainties.
The two-hour class moves quickly. Gorelick demonstrates. Students work. Switch. Before long, "empanadillas" and dates are the oven, shrimp are sautéing, and fritters are in the fryer. Wilen sets places at long tables on the opposite end of the market. Students plate their efforts, pour another glass, and snap a few photos. As they sit down to eat, the chatter ceases. Then the reactions: "Wow, these are good." "I'll make these again." "You know what these would be perfect for?"
As the students finish, Gorelick and Wilen come over to thank everyone for coming. They seem genuinely grateful that this group of people decided to share the night with them.
———
The Spanish tapas plate: clockwise from top: potato-and-salt-cod fritters, stuffed dates, garlic shrimp, and chorizo "empanadillas."
———
To learn more about Chef Alyssa's Kitchen and upcoming classes, click here.