Cooking's Bad Boy Comes to Town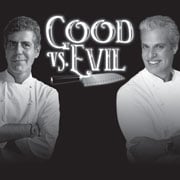 Celebrity Chef Anthony Bourdain has described his restaurant kitchens as "… noisy, debauched, and overloaded with faux testosterone." It's an apt description of the man himself, although one gets the feeling there's nothing "faux" about him or his testosterone.
He's the evil in GOOD vs. EVIL: An Evening with Anthony Bourdain and Eric Ripert, an Oct 26 event just announced for the Blumenthal Performing Arts Center.
Bourdain is a chef and author of several best-selling books, including Kitchen Confidential: Adventures in the Culinary Underbelly, in which he famously warned diners to avoid any fish special on Mondays. (The fish is, he said, always leftover from the weekend.) He's also the peripatetic and hunky host of No Reservations on the Travel channel.
His foil for the evening will be the kinder, gentler — but no less talented — Eric Ripert. His Le Bernadin has the "best food" in New York City, according to Zagat. He's also served as a guest judge on Bravo's Top Chef and has written memoirs and cookbooks, as well.
The unlikely friends will share the stage and their radically different philosophies. Tickets for the event go on sale July 26 at 10 a.m. No foodie should miss this. www.blumenthalarts.org/default.asp