Corkbuzz CEO Laura Maniec Cast in "SOMM" Documentary Series
Get to know the master sommelier and Charlotte restaurant owner before the film debuts.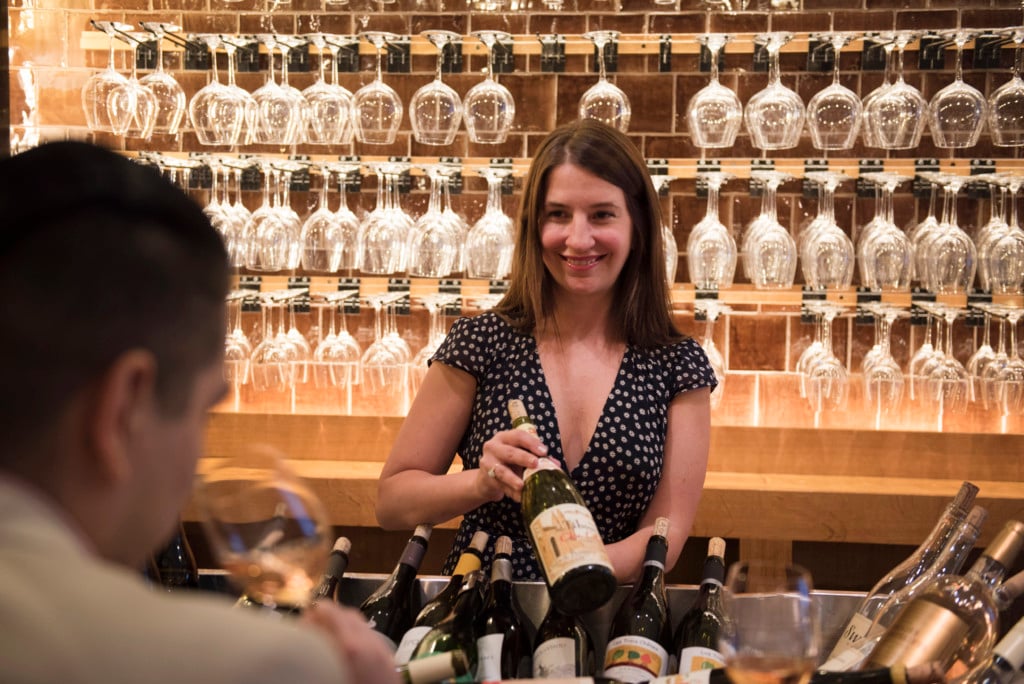 "A freshly opened can of tennis balls."
That's how Ian Cauble, a star in the first SOMM film, described the smell of one wine he was inspecting. Descriptors like these, though outlandish-sounding, are just one important part of studying for the Master Sommelier exam, the process of which is chronicled in SOMM. Released in 2013, the first documentary in the series follows four master sommelier hopefuls as they gruelingly study for the exam, hoping to achieve the most prestigious title among oenophiles. Since the inception of the Court of Master Sommeliers 41 years ago, only 236 professionals have earned their Master Sommelier diplomas, and just 32 of those wine professionals are women.
One of those women is Laura Maniec (Fiorvanti).
You may know Maniec from her wine-centric restaurant, Corkbuzz. The Charlotte Corkbuzz location opened in the summer of 2015 in SouthPark, but she also has two New York spots, where the venture began. Though Maniec calls NYC home, she frequents Charlotte and has given some great wine advice to Charlotte magazine while in town. She keeps busy as she flits from city to city, but she now has another engagement on her plate: filming for the third SOMM film.
The SOMM filmmakers, Christina and Jason Wise, recently teased an image on Twitter of the highly anticipated film's cast, and Maniec can be seen in the photo collage, along with new faces as well as familiar ones. Cauble and D'Lynn Procter are two from the first film that will continue their on-screen journeys in this third installment.
Though the filmmakers have been mysteriously quiet regarding the film release date, Maniec tells me it will be out later this year in fall 2018. A few cast members have already begun filming, and Maniec starts in two weeks.
Get to know Laura Maniec, a cast member for SOMM 3
Charlotte magazine: How did you get started with wine, and why did you want to become a master sommelier?
Laura Maniec: I got started with wine before I turned 21; I took a wine class at Windows on the World in the World Trade Center prior to September 11th, 2001. It was July, and we had an 18-week sommelier certification class on Monday nights. I fell in love with wine and the way it brought people together and my passions for travel, culture, language, and history. I decided to pursue the Master Sommelier diploma after meeting some incredible Master Sommeliers when I lived in Las Vegas. One of which, Fred Dame, is a star in the SOMM 3 film. He is like the "godfather" of the American wine industry and my pal and mentor.
CM: What was the process of earning your Master Sommelier diploma like?
LM: The process of earning my Master Sommelier diploma was exactly like the first film, SOMM. It is an arduous journey which challenged me on so many levels both personally and professionally… Blind tasting groups with a group of the best sommeliers in NYC, practicing service with a performance coach, studying for six years, and traveling all over the country and the world to work with Master Sommeliers and wine professionals. I didn't pass on my first three attempts and had to reset. I passed on the fourth try when I stopped all the self-doubt BS and finally believed in myself.
CM: Have you noticed any biases about being in this male-dominated industry?
LM: The wine industry is still dominated by men, but we are doing our best to mentor and encourage more women to achieve this top accreditation. All 32 of us Master Sommeliers who are women are doing our part to encourage the next generation of sommeliers. Women are the future of the industry and, dare I say, the world? We have different skill sets than men; we taste differently, communicate more, and build teams. I am grateful to all the strong women (and men) who have helped me, so I want to pay it forward.
CM: What can viewers expect to see in the film?
LM: I would expect to hear stories of how some of the most influential people in the wine business mentored the next generation with a cast of great characters under the direction of a brilliant filmmaking duo.