Corpse Flower to Bloom at Daniel Stowe
This rare, six-foot specimen with an unpleasant smell is expected to bloom this week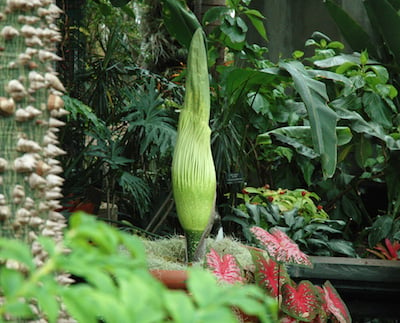 UPDATE 7/14: The corpse flower began opening Monday evening, July 13. Daniel Stowe has extended hours Tuesday and Wednesday until 9 p.m.
—
The mysterious tropical flower Amorphophallus titanum, also known as Titan Arum or Corpse Flower, is expected to bloom this week at Daniel Stowe Botanical Garden. The plant has never bloomed at the garden before.
In addition to its large size — it should reach up to six feet tall when it blooms — the flower emits an unpleasant odor that has been compared to rotting flesh. The flower only blooms every three to 10 years.
The plant, a native to the rainforests of Sumatra, resides in the garden's Orchid Conservatory with other tropical plants. Daniel Stowe acquired it from Carolina Orchids in 2012. The plant is expected to bloom in the evening, and the bloom will only last up to a few days.
The exact time the Titan Arum will bloom is difficult to predict. The garden will be updating its website and Facebook page as staff members await the moment.
Regular hours for Daniel Stowe Botanical Garden are 9 a.m. to 5 p.m. daily, and 9 a.m. to 9 p.m. on Thursday. If necessary, the garden will extend visiting hours when the Titan Arum blooms.