Cozy Room Inspo Just in Time for the Cold Weather
It's time to swoon over some comfy rooms.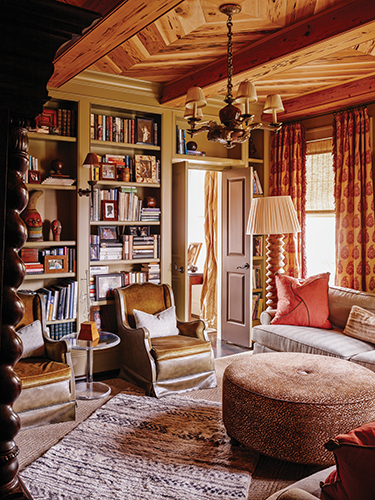 With the temperatures dwindling and memories of sunburnt lake days mere fading moments, Charlotte is slowly turning to hibernation mode. Yep, bring on the furry blankets and hot cocoa (peppermint schnapps optional). It's time to get snuggled up at home and ward off the shivers.
In honor of the unofficial snuggling seasons, we decided to round up some of our favorite cozy living rooms from past Charlotte Home + Garden features. Because who doesn't love the thought of a crackling fireplace and cuddles galore?

Outdoor Warmth
Not all cozy spaces have to be indoors. Just take this outdoor patio, for example. Outfitted with a fireplace, TV, and comfy seating, this space is practically begging for some yuletide respite.

Colorful Comfort
With a variety of seating options including a couch, bench, ottoman, and standalone chairs, this back room is the lounging area of choice for the family, and for good reason. Just peek the L-shaped couch and that throw blanket waiting for visitors.

Secluded Respite
For those who enjoy alone time, this bedroom is sure to suit your fancy. Touting both a bed, sitting area, and a desk, the room that was once a lofty office is now a cozy getaway for its inhabitant. The way we see it: there's basically no reason to leave this room, ever. (Well, except for the occasional apple pie.)

Texture and Relaxation
The materials in this library are what make it so undeniably cozy. With a cut velvet ottoman and an abundance of warm colors, everything about this room invites quiet relaxation.