Cracked Crowns: 2017
Many things happened in, around, or to folks in Charlotte that made us cringe in 2017. Fortunately, some things also happened that made us cringe slightly less. These are those things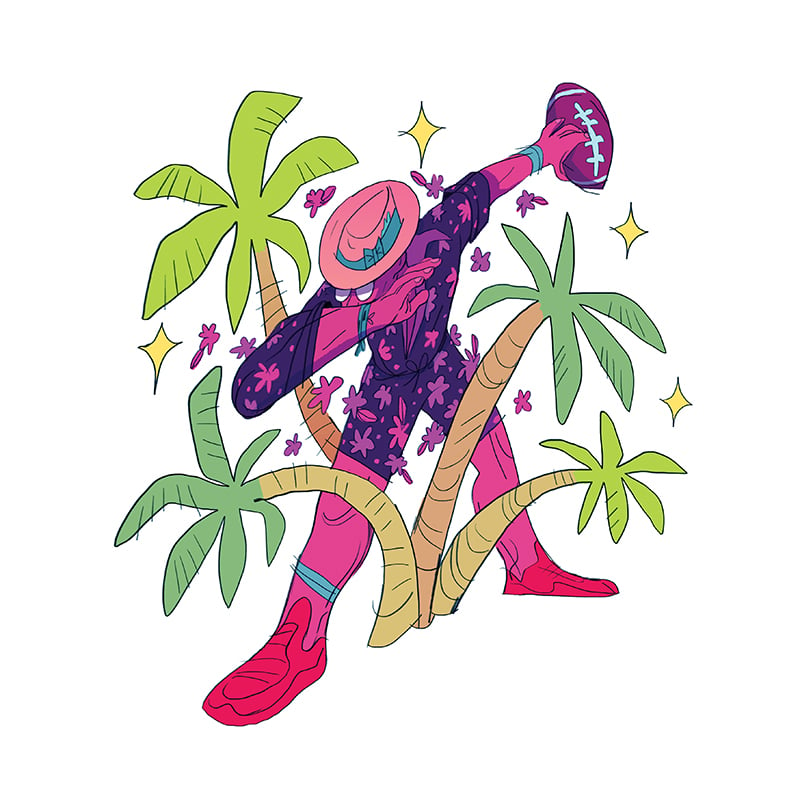 CHARLOTTE PUT FORGETTABLE Panthers and Hornets seasons and the HB2 saga behind it in 2017, focusing instead on what it does best: attempting to convince large organizations searching for public money and tax breaks that Charlotte is the best place to give them those tax breaks.
Cam Newton Romps His Way to a Fashion Touchdown
In what was without a doubt the most important thing to happen to Charlotte in 2017, Cam Newton attended the Coachella music festival wearing what was originally thought to be a floral print romper, but after much debate and examination turned out to be simply an outfit that looked almost exactly like a romper. Cam (totally?) pulled it off, prompting a nationwide "RompHims" craze for a month or two, before the one-piece jumpers sadly went the way of parachute pants.
#MLS4CLTBUTUHAVE2PAY4IT
Charlotte sought a Major League Soccer franchise with a bid led by Marcus Smith of Charlotte Motor Speedway. The Smiths have a rich history in Charlotte of dreaming big and going in circles at high speeds, and this MLS bid lived up to that legacy. The bid called for a mere $80 million of public funds to refurbish Memorial Stadium. This approach was like telling your dad you're buying a Ferrari, and he's going to put down 80 percent. And much like your dad, the city gruffly rejected the idea and went back to reading the paper.
Welcome to the Government Center; Pull Up a Beanbag
In an effort to make the Government Center more approachable, staffers transformed the area in front of the building into a playground with beanbag chairs and ping pong tables. The initiative was dubbed "GovPorch," a name so stark and literal that it looks beige when you read it. The sentiment to make the government campus more fun is not a bad idea—just a poorly named one. Like livermush.
Rickie Fowler Lookalike Party Goes Off Without a Hitch
Charlotte spent a week on the national stage when Quail Hollow Club played host to the city's first PGA Major event. Justin Thomas may have finished the tournament atop the leaderboard, but the real winners were area Uber drivers, anyone who sold parking spots, Justin Bieber fans, and purveyors of bright orange Puma bodysuits, who made a killing selling to Charlotte's 14-year-old Rickie Fowler fanboys.
Old and Busted: HB2. The New Hot Mess: HQ2
Amazon announced it was looking for a second headquarters outside of Seattle, and in true Charlotte fashion, the city immediately and enthusiastically threw its hat in the ring. The campaign to woo the tech giant had it all, including a social media hashtag (#CLTisPrime) and a bare bones website with such limited functionality that it gave the original Amazon website from 1995—which looked like a Microsoft Word document—a run for its money.
Eat Two Slices and Call Me in the Morning
Hawthorne's NY Pizza introduced "The Inducer," a buffalo chicken pizza that had a curious correlation with sending imminently expectant mothers into labor. Through October, more than 70 women had given birth after consuming the Inducer, though technically it has a 100 percent success rate if you wait long enough.
A Good Walk Spoiled…by Margaritas?
TopGolf opened in June to the delight of Charlotteans desperate for somewhere to take out-of-town guests that wasn't the Whitewater Center or a brewery. Upon its opening to much media fanfare, TopGolf became the best place to go to see people who are clearly not dressed for golf swinging clubs with reckless abandon and ultimately scoring higher than you.
Let's Party Like It's 1917 by Spiking Our Blood Sugar!
Cheerwine has produced delicious soda as an independent, family-owned business since 1917, and celebrated its centennial anniversary in May with vintage cans and a barbecue festival. It was a throwback to a simpler time, when Charlotte was a small town, a can of soda cost a nickel, and we didn't yet know that sugar water was basically poison to humans.
Have You Checked Out the New Brewery Path of Totality?
Charlotte was roughly 100 miles outside the Path of Totality during August's total solar eclipse. This was truly a shame, as new South End apartments with rooftop pools provided an Instagram-ready venue for recent transplants to fashionably singe their corneas.
Fried Green Tomatoes Dusted on Fried Potatoes
A Charlotte man named Greg Pope was in the finals of the nationwide Lay's potato chips "Do Us a Flavor" contest, in which the company searched for a new flavor of potato chip. Although Pope's Fried Green Tomato flavor ultimately lost out to Crispy Taco, we all had great fun pretending we were eating a vegetable rather than 3,000 percent of the recommended daily allowance of saturated fat.
John Short is a freelance writer and cohost of The Charlotte Podcast (among other professions) who loves digging up Charlotte's past and pondering its future. Email him at jwesleyshort@gmail.com with your favorite Charlotte history trivia or just say hey when you see him on the streetcar.