Cracked Crowns: 2018
Presenting the annual awards that mean nothing and everything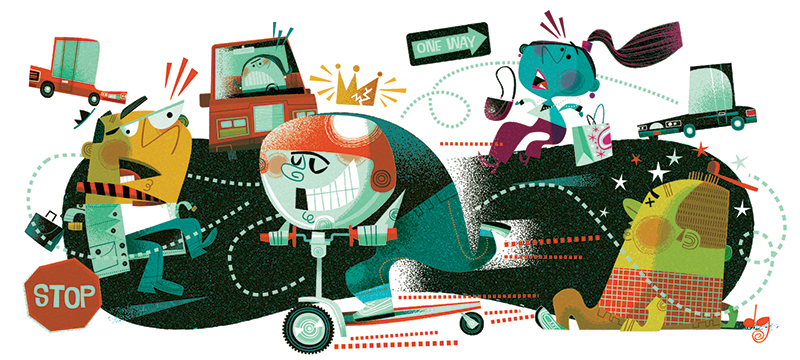 IT WAS the milquetoastest of times, it was the OKest of times. There was no shortage of norm-bending national news in 2018, and the news out of Charlotte was just as strange. Join me as we put on our helmets, stay off the sidewalks, and scoot down memory lane together.
---
Tell Me About a Time You Influenced Your Peers to Action
South Mecklenburg High School was evacuated in May as the Charlotte Fire Department arrived on the scene to investigate an "air quality" situation. Hazardous Materials teams investigated and found … a clogged toilet. Back in my day, we just pulled a fire alarm to get out of taking an exam.
This Flower Smells Like Garbage (And I'm So Sad It's Gone)
If you love gardening and things that smell terrible, 2018 was the year for you. The UNC Charlotte Botanical Gardens was blessed with not one but two specimens of the Titan Arum, a plant also known as the "corpse flower." The flower blooms every couple of years for as little as 12 hours and emits a smell described as everything from sweaty socks to rotting flesh. The twins were named Odie and Rotney the Magnifiscent, and they each attracted crowds of visitors who waited in line to sniff their stenches, a situation that never seems to happen for my sweaty socks.
One Man's Garbage Is Another Man's Last-Mile Transportation Solution
In July, the dust hadn't settled on the argument of whether ride-share bikes were conveniently ubiquitous or sidewalk garbage when motorized scooters were suddenly everywhere in uptown and South End. The dockless bike and scooter company Lime began running its scooters in May without a city permit. This understandably compelled the city to order Lime to get its scooters off the streets, which led Lime to urge its customers to complain to the City Council via social media. Eventually, the aggrieved parties reached a deal, and these days you can't walk through uptown without seeing passels of scooter riders zip by at 15 mph on their way to multiple broken wrists. Sure, introducing scooters to busy city center streets is a public safety hazard, but they're super-fun to ride. No wonder it's a billion-dollar industry!
OK, Fine, We Will Host The Dangerous Rage Party
When Charlotte wasn't arguing about babies in breweries, we were arguing about whether to open the city's doors to the 2020 Republican National Convention. The event promises to be, oh, somewhat divisive, with Charlotte-Mecklenburg Police already bracing for potential violence from white nationalists and lefty anarchists alike. As the race for the convention unfolded, it became apparent that Charlotte was the only city in the running. The whole situation was like immediately bidding $400 on Panthers tickets at a silent auction when the listed value is $150.
Forget Your Parade; Mother Nature Rained on the Horse Party
Even if you've had to cancel an outdoor event due to bad weather, your travails are nothing compared to this year's FEI World Equestrian Games. The 2018 event was awarded to the Tryon International Equestrian Center in Mill Spring in 2016, as the event takes years to plan, including the small detail of transporting the horses from around the world. Hundreds of horses were flown in, only for some events to be canceled due to Hurricane Florence in September. We can only hope the dancing horses enjoyed the oats of the region enough to make the trip worthwhile.
Bureaucracy Can Be Adorable
City Council member Dimple Ajmera was proposed to (and accepted) from the City Council dais in July. The whole story seems like a delightful fairy tale until you realize that other things proposed (and accepted) at the dais include the beige apartment buildings that line South Boulevard.
Caveat Emptor, Kemosabe
Billionaire hedge fund founder David Tepper purchased the Panthers in May for a cool $2.3 billion. In a somewhat odd twist, Tepper is contractually obligated to keep the statue of previous owner Jerry Richardson outside the stadium, which is not unlike buying a mansion with a requirement to keep all the old toilet seats.
Welcome Home; This Is Our Car Now
A family from Greensboro returned to Charlotte Douglas International after a trip to find that a colony of ants had infested their car while it sat in the parking lot. Fortunately no one was hurt, and the airport covered the expenses to clean the vehicle. Coming back from vacation to find your crankshaft full of ants is bad, but it's better than waiting for an Uber during peak hours in the ride share line. Come on, Gary, I've been waiting 50 minutes for you and your fusion orange Pontiac Aztek.
Enter This Lottery and Don't Give Away Your Shot to Be in the Room Where It Happens
The smash hit Broadway play Hamilton came to the Blumenthal Performing Arts Center, which handled high demand for tickets in the least-bad way possible, with an in-person and online ticket lottery. Some of you had to Give Up Your Shot thanks to technical difficulties. A few of you ended up Helpless. But after having to Wait for It, many of you walked away Satisfied, with tickets in hand. And if this is the first you're hearing of this whole commotion, maybe you should be wondering, "What'd I Miss?"
Twelve Cars Caught on Fire at Carowinds, and No One Knows Why
In June, 12 cars caught on fire in the Carowinds parking lot. The fire began in a 2003 Ford Taurus, and wind spread it to the others. The York County Fire Marshal's office investigated but could not determine the cause. Turns out the real Scarowinds is watching your car spontaneously combust while you're at the top of the Carolina Skytower.
Don't Stop Believing You Should Call the Cops
In October, the Charlotte-Mecklenburg Police K-9 and bomb units swarmed the Duke Energy Building after a mail room worker found a suspicious package addressed to an employee in the building. It turns out the small manila envelope merely housed a cassette tape by the band Journey. This entire situation raises many questions, chief of which is: Is there someone in the Duke Energy Building with a cassette player wondering where his or her Journey tape is?