Craft beer and social media (or, how a brewery fan got a beer named after him)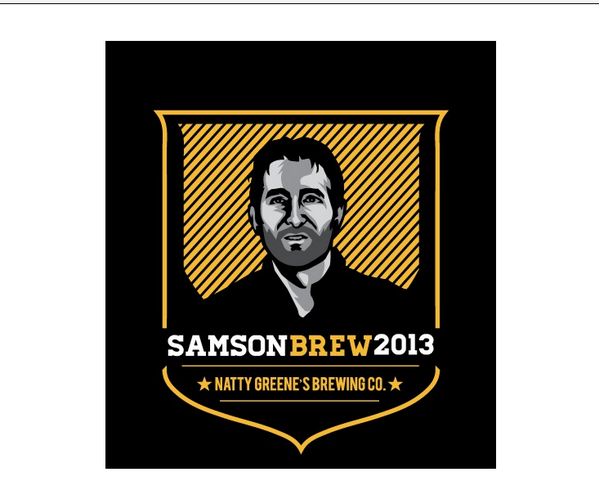 I'll admit that I was a little late to the latest social media platform, hence having to use an underscore and number in my Twitter handle. While I had Facebook (no more Bubble Safari requests, for the love of everything!), it wasn't until about two years ago that I really looked into Twitter and what it offered.
What I found was a new world of ideas, possibilities, friends and helpful suggestions. I was instantly hooked. Now, opening my Twitter feed every morning is akin to reading a daily newspaper with additional commentary.
One thing I really enjoy on Twitter is the instant ability to interact with one another. You'll see a celebrity retweet or reply to a fan. Companies are also able to use Twitter to respond to customer's concerns or for special offers.
Sometimes you'll even see a dream become a reality. And that is this story: How one tweet became a movement, and later a craft beer.
••••
Derek Samson has always been a craft beer fan. I know this because he's a friend and former co-worker of mine with whom I've enjoyed beers with on a number of occasions. Derek lived in Charlotte for several years, and every Halloween he'd have a huge costume party at his house, complete with beers by the firepit.
The beer? Always from Natty Greene's Brewing Company, whether it was Buckshot Amber or Southern Pale Ale. Started in 2004 out of Greensboro and named after the famous major general in the American Revolutionary War, Natty Greene's was Derek's personal favorite. But a job change saw Derek move last year from Charlotte to Pittsburgh, well beyond the limits of Natty Greene's distribution.
One day in January, he was craving Natty Greene's and took to Twitter, first talking about how much he missed the brewery and then this:
"I made it clear many times what a fan I am. How can I start a campaign to get your next brew named after me? Will rally people."
Soon after, he followed that tweet with this one:
"Name of Samson brew? Not sure. Will ask around for suggestions."
At the same time that was going on, Natty Greene's co-owner Kayne Fisher was checking the brewery's account. He says the brewery gets tweets about free beer or various requests often. So Fisher acknowledged the tweets with a "Cheers" and later tweeted back, "Get it started."
Now, here's the thing about Derek. He has worked for numerous national media outlets and has met many people throughout his travels. And more than that, he's the kind of guy you can talk to for five minutes and feel like you all are lifelong friends. In short, Derek knows a lot of people, and a lot of people know him. So Fisher probably didn't know what he was getting into with those three words he tweeted out.
"Basically I was like, 'OK, start a campaign and let's see what happens," Fisher says. "And lo and behold, did it get started."
Another friend and former co-worker of mine, Ryan Fagan, pushed the idea of a Samson Pale Ale petition and one of Derek's friends in Pittsburgh, Suzanne Yamrozik, came up with the hashtag #samsonbrew2013. And from there, the campaign was on and spread like wildfire.
"All this happened Thursday night and by Friday, the thing went viral," Fisher says. "We must have had 1,000 tweets and retweets just in that time."
Tweets to Natty Greene's were coming fast and furious, from national writers to friends to fellow craft beer enthusiasts. Samson continued to fan the flames, even saying he'd be willing to dress up in a Revolutionary War outfit.
A day later, the brewery announced on Twitter that Derek would have a beer brewed and named after him: Samson Brew 2013.
"They've been terrific," Derek said. "I think it's the ultimate story of customer appreciation and social media meeting to create something hysterical."
Fisher said that Natty Greene's had been trying to come up with something that would help them interact with the brewery's fans, so this was near perfect timing. But moreso than that, he added it was a great way for the brewery to show its appreciation.
"Social media can be so immediate," Fisher said. "We wanted to take something as simple as a tweet and act on it, saying not only thank you for your support, but we're also going to take it a step further and do something for you."
Created by Natty Greene's head brewer Mike Rollinson, Samson Brew 2013 is an American IPA that is heavily hopped, coming in at 6.9 ABV.
A release party was held in Greensboro and Raleigh and, true to his word, Derek came dressed in Revolutionary War garb. More than 250 friends and family showed up the first night to try the beer.
And Natty Greene's has plans to turn this into a yearly event. Fisher said there will be another opportunity for a fan to have his likeness on a beer (as well as shirts and taps) in early 2014 through various interactive contests.
For now, Samson Brew 2013 is only available at Natty Greene's pub locations in Greensboro and Raleigh, but Fisher added it could be marketed out to other parts of the state down the road.
"I'll be honest; it's one of the best beers we've ever brewed here," Fisher says.