Craft Beer and the Carolina Panthers' playoff game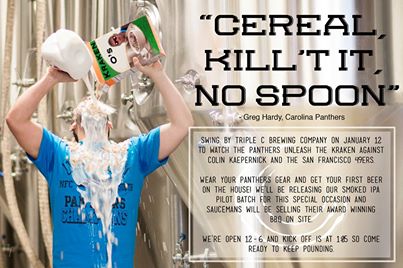 OK, enough about Ric Flair, bankers making bets and any other nonsense bulletin-board material. It's time for the important news regarding the Panthers' first playoff game in five years: Beer. Specifically, local craft beer.
First off, all of Charlotte's breweries that are open on Sundays and have TVs will be showing the game. That's a given. But some breweries also have special plans for Sunday's game against the 49ers.
Olde Mecklenburg Brewery will show the game on its eight-foot HD projector screen inside the Festhalle. On Friday, OMB is debuting its bourbon barrel-aged Bauern Bock, so there may be some left by Sunday (you may want to go beforehand just in case, though). And while you're at the brewery, pick up tickets for next weekend's Fat Boy Baltic Porter release, which includes breakfast and a bottle share.
Triple C Brewing Company, creators of the greatest picture in 2014 so far (do yourself a favor and click the pic on the left to enlarge), is releasing its Smoked IPA pilot batch for the playoff game. Also, if you wear Panthers apparel, they'll buy your first beer. The brewery will also have Sauceman's on site selling barbecue.
For those heading toward the stadium for atmosphere, Unknown Brewing will be open for business. Located just two blocks away from B of A, Charlotte's newest brewery just got its Over the Edge USPA back on tap and will also have a special batch of Crown Town Brown Ale.
And if you're lucky enough to have a ticket for the game, don't forget you can purchase NoDa (now in cans!) and Olde Mecklenburg beers inside Bank of America Stadium, along with other craft beers from North Carolina breweries. Refer to Daniel from CharlotteBeer.com's post earlier in the season on where you can find craft beer in B of A.
Of course, you can always visit your favorite local bar or bottle shop to either watch the game or stock up on beer. Fellow Charlotte Magazine blogger Jarvis Holliday has a post on several local viewing parties Sunday (skip that last one about San Francisco fans tailgating). And Vintner Wine Market is tapping a keg of Lagunitas Sucks in honor of the 49ers (OK, I made that last part up).
Have fun, go Panthers and drink up, son (but be safe).