Craft Tasting Room and Growler Shop opening in SouthEnd this fall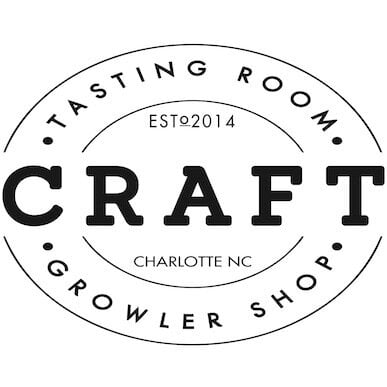 When Dan Davis began thinking of a name for his new business, the idea was to keep it simple, but also have significant meaning.
Technically, Charlotte's newest beer store will be called Craft Tasting Room and Growler Shop. More than likely, people will refer to it as simply "Craft," which is just fine with Davis.
"To me, Craft isn't just a catchy buzzword; it's a word that means something," he says. "Whether it's a brewer or farmer or anyone who makes something out of elemental things, I want to take all of their passions and infuse it into this place. That's the buzz I want people to feel here."
Craft Tasting Room and Growler Shop will be located in the SouthEnd district on the corner of South Church Street and Lincoln Street and directly behind Unknown Brewing. Scheduled to open in late August/early September, the establishment will feature 36 taps for both growler fills (64 oz. and 32 oz.) and on-site consumption, along with an outdoor beer garden. Craft will also offer specialty grocery/food focusing on North Carolina products, both in-house and to go.
The concept stems from Davis' background, as he is a craft beer lover who's been in the food industry for years, most recently in New York City, where he worked alongside famous chef Geoffrey Zakarian at The National Bar and Dining Room.
Davis said he had opened enough businesses with other people that he promised himself he'd never do it again unless it was his own. When his wife was transferred down to Charlotte almost two years ago, that process began soon after.
While living in New York City, Davis often visited his brother-in-law in Atlanta, where there is a heavy presence of growler shops. Davis said his brother-in-law told him, "Whenever you move out of New York, this is something you should really look into."
And that's exactly what Davis did upon arriving in Charlotte. One problem: At the time he arrived, growler fills were still illegal in North Carolina. But when the law allowing establishments to fill growlers passed last October, Davis started his due diligence right back up, looking at spaces and eventually landing on a 3,000 square foot facility (which formerly was a toy shop) in the SouthEnd district alongside uptown Charlotte.
"In the beginning I looked all over Charlotte, but you know, SouthEnd has that character and an energy there that I think will mesh and infuse really well with what I'm trying to do," Davis says. "The neighborhood is great, and it seems like this area is crying out for a need for a walkable place to grab a beer and bite of food."
Of Craft's 36 taps, half will be devoted to Charlotte breweries, with the other half focusing on "selections from the region and beyond," Davis says. There will also be a 24-seat bar with a couple of TVs, and the aforementioned outside beer garden, which is around 1,000 square feet and has room for roughly 75 people.
As far as the food goes, while it will be higher-end (think small plates and charcuterie), offerings will stay with the simplistic theme.
"What I want to offer are things that have three simple ingredients, and letting those speak for themselves," says Davis, mentioning piadina (Italian flatbread that can be filled with meats, cheeses and/or vegetables or served with olive oil) as an example.
He also points out that North Carolina is one of the biggest cheese producers, and mentions all the food served from the counter service kitchen (where Davis will be the chef) will be complementary to the beer.
Davis is in the process of obtaining all of the necessary permits to open, and hopes to be "swinging hammers" by week's end, sticking to his schedule of opening in the fall (knowing his close proximity to Bank of America Stadium, he adds, "as long as we're open by the time football season gets going.")
The idea of a craft beer bar/growler fill store/bottle shop that also specializes in specialty grocery is something that Davis is excited about, both for the Charlotte's craft beer community and his vision.
"I'm a chef by trade; that's all I've ever done," he says. "So that's why I want the food there. I want it to be diverse, and local. The beer speaks for itself and North Carolina has such a huge wealth of locally produced products, and it blends with the beer – whether it's the food I'm making or buying specialty cheese from a farmer, just pairing it up and putting it all together.
"I wanted to do something that Charlotte doesn't have right now. And I think craft beer and good food go hand in hand; it's a natural fit."
Keep up with Craft's progress by following on Twitter and Facebook.