Cranberry Oatmeal Cookies with Brown Butter Icing
A Homemade Holiday Treat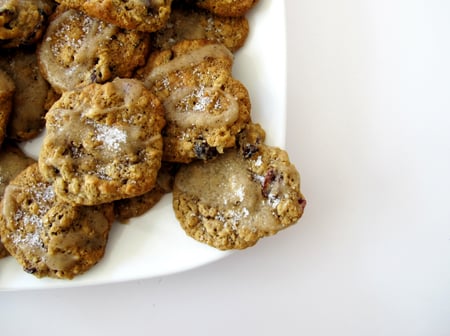 I originally made this recipe for a Christmas cookie exchange. The cookies were a hit with young and old alike! We have a nut allergy at our house, which means no peanut or tree nuts. I love the nut flavor that brown butter gives in a recipe. And the icing in this recipe is good enough to eat by itself!
Cranberry Oatmeal Cookies with Brown Butter Icing
originally written at Tag&Tibby
1/2 cup (1 stick) butter softened
1/2 cup vegetable shortening
1 1/2 cups light brown sugar
1 egg
1/2 cup buttermilk
1 3/4 cups all-purpose flour
1 teaspoon baking soda
1/2 teaspoon salt
1 teaspoon baking powder
2 1/2 teaspoons pumpkin pie spice
2 cups quick-cooking oatmeal
1 teaspoon pure vanilla extract
1 cup cranberries (optional)
Brown Butter Icing
1/2 cup butter
2 cups powdered sugar
1 teaspoon vanilla extract
3 tablespoons water
Sanding sugar (optional)
Directions
Preheat oven to 350 degrees F. Lay parchment paper on cookie sheet. Using a mixer, cream together butter, shortening, and sugar in bowl until fluffy. Add egg and beat until mixture is well blended. Add buttermilk. Sift together flour, baking soda, salt, baking powder, pumpkin pie spice; stir into creamed mixture. Fold in oatmeal, cranberries, and vanilla. Drop by rounded teaspoons onto cookie sheet. Bake for around 8 minutes. Drizzle with brown butter icing.
Icing
In small saucepan heat the butter over medium heat until golden brown, stirring occasionally. (It took my butter 5-6 minutes to brown) Remove saucepan from heat, stir in 2 cups powdered sugar and 1 teaspoon of vanilla. Stir in 3 tablespoons of water to making icing drizzle. Add sanding sugar to top for extra sparkle.