Credit Card for Christ
With the swipe of a credit card, you, too, can give to God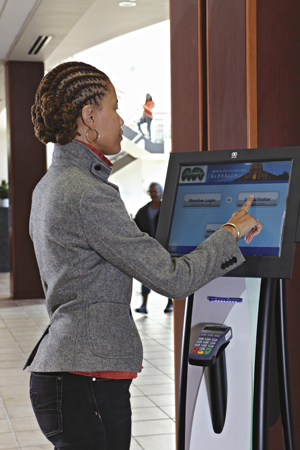 Credit may be hard to come by for the average Joe these days, but it's getting easier for the man upstairs. While a church lobby may seem like the last place you'd expect to find a credit card machine, giving kiosks are popping up in places of worship across Charlotte. It's the latest trend in tithing: instead of making church donations via passed collection plates each Sunday, simply swipe your card and—voila!—you've just contributed $100 to your church.
"People just don't write checks anymore, so we're actually behind the curve because we're just now installing one," says Ed Holland, the church administrator at Friendship Missionary Baptist in Charlotte. "We're trying to reach out to our younger parishioners, and this is the fastest way to do it."
An Augusta, Georgia, pastor came up with the concept in 2004 after realizing most of his 2,000-member congregation was younger and used to paying for things with a debit card. "People kept coming to church asking us if there was another way for them to donate," says the pastor's son Stuart Baker, who now sells SecureGive Machines across the country. Two hundred thirty churches in the U.S. have two to four SecureGive kiosks. (Elevation Church has six and Christ Community in Huntersville has three). "We've had churches see a 10 to 20 percent increase in the first few months of using them. We got a lot of first-time givers who used the kiosk but had never donated cash before simply because they didn't have it with them." Which is exactly what's happening at Southbrook Church in Weddington, which has its own version of the kiosk. "We installed it in February and we've had a bigger response from the kiosk than online giving," says Southbrook's executive pastor, David Kush.
But not everyone has warmed up to the idea of donating via debit card. "There's been some resistance from the people that are older, but there was resistance in the forties and fifties when churches began accepting checks," says Holland. Robin Furr, business manager at Providence United Methodist, says the congregation hasn't seriously considered installing a giving kiosk. But, she adds, they haven't ruled it out. It's a similar scenario at Myers Park United Methodist, where senior administrator JoAnn Horstman says it's not really on their radar.
For now, the consensus is that the kiosks are simply convenient more than anything. "When you look at how people are handling their money transactions, simply put, it makes more sense," says Holland. "I think it's the generation that's coming behind baby boomers that are real users of electronic payments. That's how they do business. That's how we're all going to be doing business pretty soon."