Critic's Corner: Visual Art Shows at McColl Center, Goodyear Arts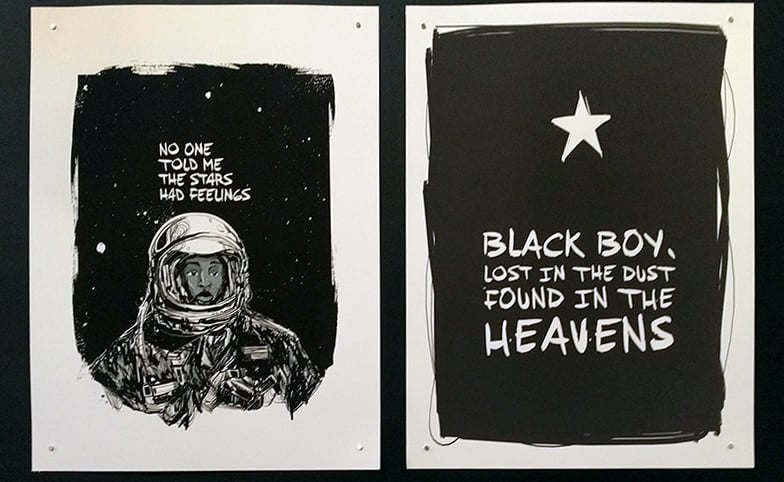 Review: The World Is a Mirror of My Freedom at McColl Center for Art + Innovation
Just a couple months after taking the helm at McColl Center, artistic director Nicole J. Caruth curates a reaction to widespread violence against African-American males. The World Is a Mirror of My Freedom, running through March 25, taps into the current and past residents at the McColl for a program that varies in both scope and media.
The subtle wisdom of the show is how it traverses time as a response to the social climate in today's Charlotte and beyond. Some of the bold figurative work of Charles Williams and Shaun Leonardo focuses on today's victims of police violence. The tag-team of Marcus Kiser and Jason Woodberry takes us on a pop adventure into the future, though the work is rife with references to stories from today's headlines and pop culture. Dread Scott's work reaches back to the long era of slavery in the U.S. As assembled, the entire show displays the recurring nature of the problems African-Americans face today—and the graveness of the choice to not break the cycle.
It was only months ago that the McColl made another social statement, Open Occupancy, which brought temporary installations inside the bathroom to stir conversation about House Bill 2. This trajectory reflects an arts venue that wishes to wake up and confront Charlotte's shortcomings and unrest, alongside the city's activists and social leaders. It says much for the McColl that it could tap its own, existing network for such an effective effort.
***
Review: Apple Pie at Goodyear Arts
The "Pies" are now a series of shows curated by Grace Stott and Melody Rood that began with last year's Cherry Pie at Union Shop Studio. Cherry's successor is Apple Pie, hosted at Goodyear Arts through April 1. While the first was a broad meditation of feminism, the second takes a look at the "the intersectional identities of American artists and how they relate to, synthesize, or explore what America is and/or represents."
This time around, the curatorial committee expanded to five, with the addition of Weird Empire's Rebecca Henderson, The Dwelling's Kathleen Bloom, Goodyear artist Renee Cloud. With nearly 50 artists in tow, the far-reaching Apple Pie mixes installation art, painting, ceramics, sculpture, drawing, and several other mediums.
Highlights of the show include a new, absorbing piece from Hannah Barnhardt, whose observational, figurative work showcases human behavior in its most powerful, vulnerable, and at times, its strangest moments. Pieces from Dammit Wesley, HNin Nie, and Sloane Siobhan offer some of the show's strongest 2D work, while Emily Blythe Jones and Tucker Bradley constructed some of its most evocative three-dimensional work. The latter's installation, an Army-crawling toy soldier spilling blood in an endless circle, takes the theme in an unexpected direction.
As a whole, the show is an extraordinary collage that highlights mostly local, burgeoning and veteran talent. Let's hope that more Pies are ahead, and Charlotte's other venues are taking note.