Cuban Pete's Cafe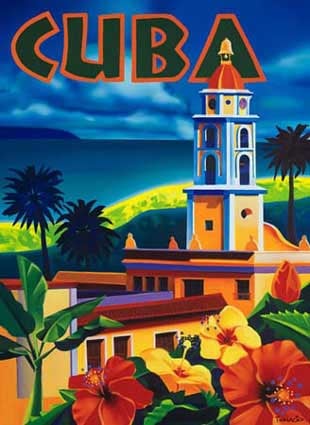 Cuban Pete's Café, which opened yesterday, may not look like much from the outside. After all, it's squeezed in the corner of a Plaza Midwood strip center that includes a Subway and used bookstore. Don't be deterred though—step inside and you'll find a restaurant unlike anything else in Charlotte.
I've never been to Cuba—and I'm going to hazard a guess and say that most of the readers of this blog haven't either. A few bites of this place's food and you'll want to change that. But first, let's talk about the atmosphere.
There is very little doubt upon entering that you're in a Cuban inspired restaurant. Palm trees and tiki torches dot the space, which features tile floors and shiny wooden tables with orange-cushioned chairs. An island-themed mural stretches across one wall and tiki hut structures house the hostess booth, long drink bar, and coffee bar (more on that later). Lines of what looks like laundry drying drape over tables and white lights are strung throughout the restaurant. Between the ornate décor and Cuban music playing over speakers, it feels a little like Disney World's version of the country, but it's more charming than cheesy.
The menu is covered with sepia-toned photos of the owner's family from Cuba. The owner, Tony, is a friendly, smiling man with a Spanish accent who enthusiastically greets guests at their tables. A chalkboard behind the sangria bar (yeah, you read that right) declares that the mojito sangria is Tony's favorite. The sangria bar itself features six giant glass jars with fresh fruits soaking in a variety of liquors.
The sangria bar is next to the coffee bar where you'll find Cuban, Argentinean, American, and a variety of other coffees. You can pull up a stool just for coffee or settle in at one of the tables. You probably should settle in to one of the tables though because this is a place where you should be eating.
The menu (it's huge) features appetizers, soups, salads, sandwiches, and lunch specials, as well as entrees listed under beef, chicken, pork, seafood, and vegetarian. Prices range from under $10 for sandwiches to $36 for a seafood paella dish for two. Most entrees are between $10 and $12 though.
Now, finally, the food. The spinach and cheese empanadas are perfectly cooked with a slightly crisp almost sweet outside that breaks open to creamy spinach. A Caribbean chicken lunch special ($9) features tender, marinated chicken on skewers with pineapple chunks topped with a mango-cilantro relish. It's served over the traditional rice with a side of flavorful black beans—and it is very good.
Enjoy Cuban sandwiches? I'd suggest getting it with a twist here. The Midnight Sandwich ($8) is the same as a classic Cuban, but is pressed on the restaurant's homemade sweet egg dough bread. The roasted pork, ham, pickles, Swiss cheese, and mustard are all perfectly proportionate and it's served with a side of crisp plantain chips.
Other tempting dishes include the vegetarian tamales ($10), the roasted pulled pork topped with grilled onions ($11), the skirt steak served with a chimichurri sauce ($14.50), and the chicken Milanese served with homemade tomato sauce ($11).
Whatever you do, do not leave without dessert. Seriously. I can't stress this enough. You're going to want to try the tres leches cake. It is sweet, creamy, and served cold with rich whipped cream and fruit. And with the possible exception of those sangrias, it might just be the best thing on the menu.
Cuban Pete's Café, which is open for lunch and dinner each day except Sunday, is located at 1308 The Plaza and can be reached at 704.910.5233.