Davidson Horticultural Symposium
Sign up now for the March 3rd event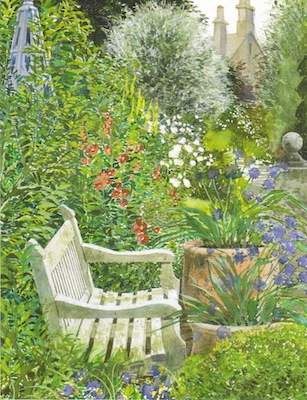 The Davidson Garden Club challenges our definition of a garden with this year's Davidson Horticultural Symposium. Instead of stressing maintenance and precision, the symposium's theme "Planting Outside the Lines" is designed to show attendees that gardens don't have to look a certain way or contain specific plants. Some of the most interesting gardens stray from structure and convention.
The March 3rd event at Davidson College will be the 31st annual symposium. Participants travel from other cities and states to attend the day full of presentations, discussion, and fellowship.
"I think one of the unique things is that participants can communicate with the speakers at lunches and various times," says Pam Grant, a garden club member and one of the publicity chairs for the symposium. "We have speakers come back as participants frequently."
After last year's symposium, participants filled out evaluations. Club members went through every sheet to get ideas of what people would like to learn about this year. They also took into consideration garden trends they noticed in fellow members' landscapes and throughout the Lake Norman area. They saw that more people are incorporating natural areas into their landscapes, eliminating portions of their lawns, and using the strip between the sidewalk and the street to put in plants instead of sow grass. Overall, many people are gardening with an ecological mission in mind.
"I have no lawn," Grant says. "I have perennials and natural plants to the area. More club members are expanding areas with native plants. They aren't giving up their lawns, but close."
Cindy McIntosh, symposium chair, came up with the title "Planting Outside the Lines." The event's speakers will give presentations related to the theme. The lineup includes national-award-winning landscape designers, authors, and photographers discussing everything from no-mow yards to pollination and wildlife habitats.
"This year, what we're doing will stimulate a lot of conversation," Grant says. "People need the courage to try new things."
Dearness Gardens in Huntersville will construct an indoor nursery, Park Road Books will have a selection of garden-related titles including many by the day's speakers, and Davidson Lands Conservancy will have an information booth. Pam Brewer from Newland is this year's visiting artist, and she'll display her ceramic work.
Symposium tickets are on sale now. As of early last week, more than 300 of the 400 total spots had been filled. Registration is $89. Click here to reserve your spot. The deadline to register is February 23.