Decorate with Greenery
Rosedale Plantation turns common clippings into holiday accents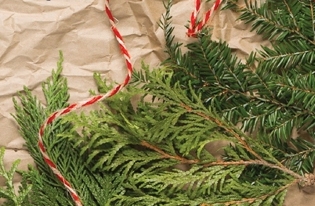 Jeff Drum has clipped greenery from magnolias, camellias, and hollies to use as Christmas decorations for years. It's natural, it's pretty, it's cheap, and it smells nice, so taking advantage of what's growing around him is a no-brainer for Drum.
"It's real," Drum says. "There's so much fake and artificial stuff that's worked its way into the holidays. That's an important thing to me."
Drum joined Historic Rosedale Plantation this past spring as garden curator. The Rosedale home was built in 1815 and still has nine acres of the surrounding property. A Hickory native, Drum, 53, has been a gardener, both at home and as his profession, since he was 20 years old. He's tended the grounds at other notable Charlotte locations, such as Charlotte Country Club and Wing Haven Gardens.
This Saturday, Drum will lead Rosedale's Greenery Workshop & Sale. The workshop—where participants will learn about different types of greenery and how to use them in decorative bowls, wreaths, and garlands—is full. But Drum plans to offer another workshop on Tuesday, December 16, provided enough people sign up.
"The whole point of this is to have fun, but also for them to learn to do it themselves," Drum says.
After Saturday's workshop, greenery will be on sale to the public at Rosedale from 11:30 a.m. to 3 p.m. Drum will have a few examples of what people can do with the greenery once they get it home. Most of the greenery will remain in good condition throughout the holiday season. Those unable to make it to Saturday's sale can still purchase greenery from Rosedale by calling the plantation two days in advance of picking it up.
At $12 a person and a 15-participant maximum, the workshops aren't big moneymakers for the plantation, but they're still important to provide an educational opportunity for the community and to inform people about Rosedale.
"We always want to draw attention that Rosedale is here," Drum says. "With it being on busy North Tryon Street, it's not incredibly well-known. It's really quite a special place."
If you're interested in purchasing greenery from Rosedale or signing up for the December 16th workshop, call 704-335-0325.