Deep-Fried Peaches at Food Lion AutoFair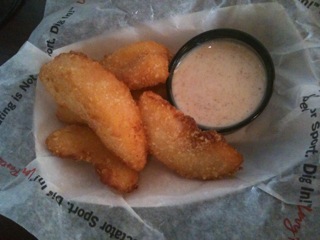 Every year when the Charlotte Motor Speedway hosts the Food Lion AutoFair they serve up some tasty fair food-themed dishes (we're talking the kind of deep fried stuff that would make your cardiologist cry—one year they actually served fried butter). This year deep-fried peaches (pictured) are headlining. Created by Chef Eileen DelPiano with Levy Restaurants, the peaches are sliced, dipped in batter, and fried up fresh. They come served hot with a sweet yogurt, cinnamon, and vanilla dipping sauce.
What's that? Peaches sound a little too healthy to you? Well, I'd like to suggest some of the other fair food offerings like a bologna-q sandwich with deep-fried strips of bologna in BBQ sauce, or the pimento mac and cheese balls mixed with bacon and deep fried, or even the "breakfast sundae"—a mix of biscuit, eggs, sausage, gravy, and grits all topped with cheddar cheese.
You can find all this food at the Levy Concession stand. Oh, and apparently there are some cars you can check out too while you're eating your bologna-q.
The fair starts today and runs through Sunday. Go to charlottemotorspeedway.com for more info.