Design Dos to Start the Year
Simple changes to your decor can create a new look without a complete design overhaul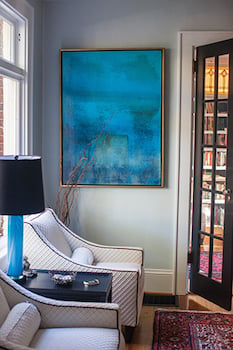 With a few additions or changes, you can take a room from dated to trendy. Take a look at the examples below from Charlotte Home + Garden.
1. Artwork
This original abstract by N.C. artist Scott Upton makes a striking welcome as guests enter the front room of this Elizabeth home.
PHOTO BY LOGAN CYRUS
These oil portraits painted by a family member add interest to the crimson walls of this Plaza Midwood dining room.
photo by chris edwards
2. Nature-inspired pieces.
Designer Amy Vermillion likes to incorporate natural-looking elements into her projects, such as this Forte Norn armoire.
3. Styled bookshelves.
Designer Cynthia Urbanik takes bookshelves beyond their utilitarian purpose in this south Charlotte home. A popular trend is to use the books as accents, not just reading material.
photo by joel lassiter
4. Floor coverings.
A high-end rug from the South End showroom Couture Knots can become a room's focal point.
photo by logan cyrus
Bob Margies of MHS Interior Carpet Design is a carpet artist. He uses skill and precision to install carpet in difficult places, such as spiral staircases.
photo by logan cyrus
5. Patterns.
Purchasing new pillows or curtains with a vibrant pattern can make the room pop.
photo by joel lassiter
The fabric for the pillows and ottoman in this study was expensive. So designer Laura Archibald used it for the smaller pieces instead of covering the entire couch—affordable and tasteful.
photo by joel lassiter
6. Light fixtures.
This light fixture is made of repurposed mattress springs, making it a conversation piece for this Elizabeth home.
photo by logan cyrus
Fun, artistic chandeliers are in. This one in a south Charlotte home is from Darnell & Company.
photo by joel lassiter