DESIGN: Foundational Flow
Marie Cloud creates a communal space for conversation and connection.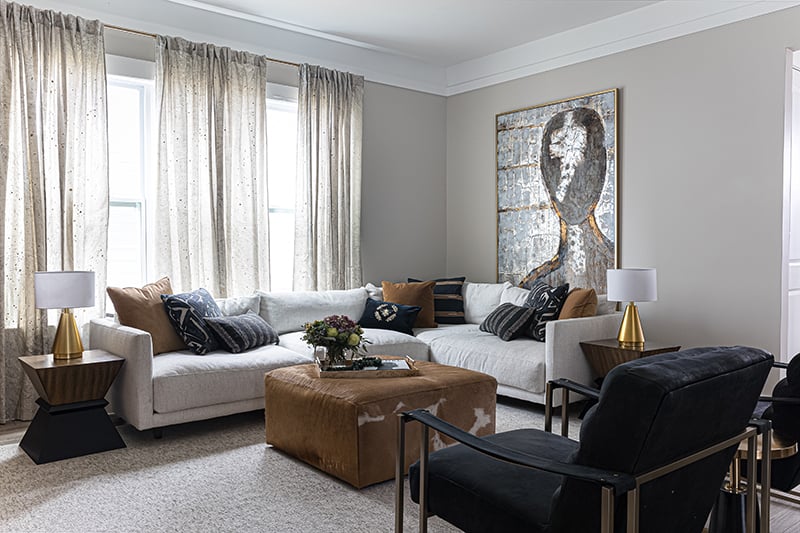 Marie Cloud, owner of Indigo Pruitt Design Studio, began designing the interior of her clients' 2,800-square-foot, two-story Matthews home while it was still under construction. The homeowners had one son in college and two not far behind, so they wanted Cloud to make the kitchen, dining, and living areas function for their family as they transitioned to an empty nest. As pastors, they still needed space to host friends and members of their congregation. "They wanted to have the design locked in by the time they moved in," Cloud says. "This was about striking the perfect balance of comfortable and casual, yet having organization and a layout that ensures good function and flow. But the biggest piece was making sure their boys could come back and still feel comfortable in their space."
LIVING ROOM
"I wanted to keep the overall feel neutral and fresh, something they could build on over time with those foundational pieces. The wife really wanted a black-and-white palette with gold accents, but I also wanted to use some wood tones to make it feel cozy. The burlwood shelves have a nice honey brass finish, and I added that funky hide ottoman to bring in some texture and contrast. A bulk of the furniture we purchased at The Designers Marketplace in Fort Mill. That's where we found that painting, too. It was tucked away, and when I saw it I thought, Oh my goodness, I need that!" —Marie Cloud
What's What
Couch, Rowe Furniture
Shelves and media stand, Crate & Barrel
Rug, Juniper
Chairs, Universal Furniture
Ottoman, The Designers Marketplace
Accent tables, The Designers Marketplace
Lamps, HomeGoods
Art, The Designers Marketplace
Accent pillows, The Designers Marketplace
DINING ROOM
"They made their formal dining room into an office space, so I wanted this casual dining area to still have a formal look. It should feel as if they can have Thanksgiving dinner here, too, without losing the casual nature of it. The brass curtain rods stay consistent with the pendant lights in the kitchen. We went with a round table with a brass base to give it a luxe vibe, and kept four chairs for ease of space. The main reason we did two accent chairs in the living room was to create another layer of conversation. If all three of those areas need to operate as one big space, they can open it all up." —M.C.
What's What
Table, World Market
Chairs, Restoration Hardware
Lighting, Ferguson
Window treatments, HomeGoods
Curtain rods, World Market
KITCHEN
"They were already committed to the white cabinets and countertops, so we painted the island Sherwin-Williams' Black Magic to create some contrast and added the vertical wood slats to add texture and dimension. I switched out the builder-grade light fixtures with brushed-brass pendants to help tie in the barstools, which also brought in that brown cognac leather from the living room. I wanted that brown to really pop but not compete with anything else in that line of sight. For hardware, I love mixing metals because it allows your eye to keep moving, but it gives homeowners flexibility if they want to change things in the future." —M.C.
What's What
Walls, Sherwin-Williams' Agreeable Gray
Pendant lights, Perigold
Appliances, Samsung
Hardware, Ferguson
Barstools, Grandin Road
Art, Wendover Art Group