Destined for Dining
My discovery that a love of food could be turned into a career occurred in a somewhat unorthodox fashion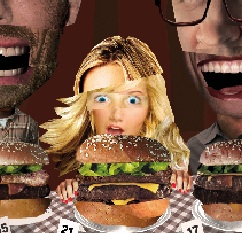 As someone who loves discussing and writing about food almost as much as I love eating it, becoming a dining editor was fitting for me. If I weren't a dining editor, I'd just be the creepy person who asks you for a detailed description of a dish twenty seconds after you put the first bite in your mouth. Now I'm just the creepy dining editor who does that.
Most food writers probably have stories of epiphanies they had while nibbling on perfectly seared foie gras in Parisian bistros that led them into culinary-focused careers. And while just typing the words foie gras makes me drool a little, my moment was in a simpler setting. It all began in a Fuddruckers in March 2002.
A month earlier a friend had casually asked if she could sponsor me in an eating contest. The contest would involve eating a one-pound hamburger as fast as I could. The free burger was tempting, but I had enough pride to not like the idea of stuffing my face in front of crowds. I was just about to decline when she mentioned that the contest winner would receive a $100 gift certificate to Best Buy. Turns out free DVDs are more important than pride.
When I sat down at the contest between two men significantly
larger than me and eyed the massive piles of ground beef in front of us,
I had a few second thoughts.
The day of the contest I wore loose-fitting clothes. I ate a large lunch to warm up. And I instructed everyone I knew to stay away from Fuddruckers. When I sat down at the contest between two men significantly larger than me and eyed the massive piles of ground beef in front of us, I had a few second thoughts. But then the whistle was blown and the contest began.
The guys seemed to be winning at first as they stuffed their burgers, massive bite by massive bite, into their mouths. But I was focused. I looked away from the cheering crowds and worked intently on my burger. Slowly but surely it became apparent I was winning. The crowd's cheers grew. And then I triumphantly swallowed my last bite. The crowd went wild. Fuddruckers' staff had come to watch. They shook their heads, saying they'd never seen anything like it. They gave me a T-shirt that read "Fuddruckers One Pound Champion" on the front and "Are you man enough?" on the back. I asked for a cookie to get the beef taste out of my mouth.
A week later, when I could look at burgers again without having traumatic flashbacks, I returned to Fuddruckers to use the gift certificate they'd given me for my big win. As I ate with a friend, the manager approached our table. He explained that the restaurant was hosting a burger eating contest for the local fire department the following night and that Fuddruckers would like to sponsor me to compete. They thought I could take on the firefighters. I declined, but for the first time it occurred to me that my adoration for food might come in handy.
While competitive eating was briefly tempting—for the gift certificates if nothing else—I decided to take a different path. I think I made the right choice. Dining editors get to eat a lot (many, many dishes had to be tried before picking the 100 featured in this issue), but there are fewer embarrassing photos involved. And besides, who would want to rush things like sweet pan-fried corn or creamy lobster bisque? Not me.