Details announced for Charlotte's top craft beer festival, Brawley's Black & Blue X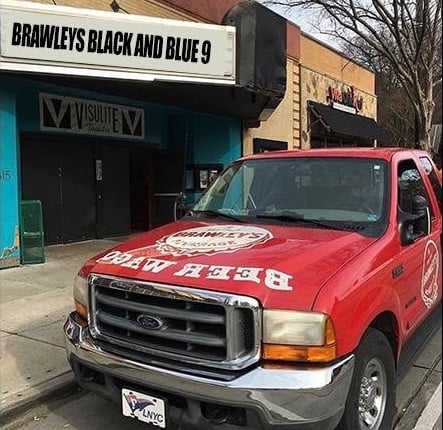 Now that Hamilton has come and gone, it's time for the next-hardest ticket to get in Charlotte.
Over the weekend, Brawley's Beverage announced ticket details for Black & Blue X, arguably the top craft beer festival in the Queen City (voted many times over for Charlotte Magazine's yearly Best of Best awards) and one of the best in the Southeast as well.
If you've never been (and many haven't), Black & Blue features a host of top local and regional breweries, which in turn bring a number of rare and barrel-aged beers to the festival. Michael Brawley and Shane Icenhour do a tremendous job year-in and year-out in curating a taplist that has craft beer fans talking for months after the event. And there's always top-notch live bluegrass music (years past has included the now-nationally renowned Love Canon, along with Strung Like a Horse and last year's performers, Big Daddy from Acoustic Syndicate and Leisure McCorkle).
Visulite Theatre, which has been the host for Black & Blue since its inception, provides an intimate setting with little crowds and allows opportunities for people to speak with each brewer about the beer you're drinking.
And that brings us back to the tickets. Unlike some festivals that seem to try and pack in as many people as possible, Black & Blue limits tickets sold to a few hundred in order to provide a great experience all around with rarely a wait in line to get a beer. Because of that, tickets sell out quickly, and it's not uncommon to see tickets pop up on Craigslist or scalpers outside of Visulite.
This will be the 10th year of Black & Blue (hence the X), and tickets will go on sale Sunday, Dec. 9 at Brawley's (located on Park Road) beginning at 4 p.m. Just like last year, there will be no online sales; the only way to purchase tickets will be in-person at the shop. Tickets will be $65 each with a limit of two per person.
Black & Blue X is scheduled for Saturday, March 16. As the date grows closer, look for additional details on the festival (including breweries and beer announcements) to come.