Details on Brawley's Black & Blue, Queen City Brewers Festival and Moo & Brew Fest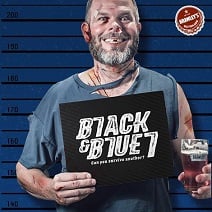 It's time to look toward upcoming local craft beer festivals, as two of the more popular ones have tickets on sale now with a third going on sale Christmas Eve. Brawley's Black & Blue is set for March 5 at Visulite Theatre. This year's Queen City Brewers Festival will be February 6 at its new home, The Fillmore. And after an impressive debut, the second Moo & Brew Craft Beer and Burger Festival will take place April 16, once again at the N.C. Music Factory grounds. UPDATE: Via a tweet from the festival, looks like Moo & Brew will be moving to Plaza Midwood for the festival this year. I'm told an announcement will be made soon.
Hosted by Michael Brawley of Brawley's Beverage, Black & Blue has grown to become one of the premier beer festivals in the Southeast, for a number of reasons. First, it's intimate – this festival is capped at a low number to allow for short lines and minimal crowds. Then, of course, is the beer. Brawley and Shane Icenhour do a terrific job curating the festival to nab a number of rare selections (check out last year's list for validation), and you can always count on a surprise or two that isn't announced.
Tickets for Black & Blue 7 go on sale on Christmas Eve at 10 a.m. on Visulite Theatre's Web site. I can say with utmost confidence that this event will sell out by day's end, so if you want to go, act fast.
This will be the fifth year of the QCBF, which has grown each year, both in attendees and breweries. This festival solely focuses on breweries from Charlotte and the nearby area, giving it a true local theme. The 2016 QCBF currently has 24 breweries listed on its Web site as scheduled to be pouring, including some of Charlotte's newest breweries in Free Range, Legion and Three Spirits.
As the Queen City Brewers Festival has grown, there's also been a need to change venues to accommodate the growth. Debuting at Neighborhood Theatre, the QCBF later moved to Silver Hammer Studios at the N.C. Music Factory, but the purchase of that space by AvidXchange prompted a site change last year to Bojangles Coliseum.
With the announcement several months ago that the Charlotte Checkers would be moving back to Bojangles though, the festival again needed a new space. Enter The Fillmore, which has already had past success with its own Fillmore Craft Beer Sessions over the past couple years.
Just like years past, the Queen City Brewers Festival will have two sessions: one in the afternoon (1 p.m. to 4 p.m.) and one in the evening (6 p.m. to 9 p.m.). Tickets are $45 and can be purchased here. You can also get updates at the festival's official Web site.
In just one years' time, Moo & Brew Fest quickly established itself as a festival favorite, combining two things many love: craft beer and great burgers. Last year's event saw more than 40 breweries and bottle shops take part, with restaurants such as Bang Bang, Heist and Pint Central serving up intriguing and delicious sliders.
More information will be announced about Moo & Brew over the next coming months, and I'm looking forward to finding out this year's musical acts (last year was a solid start with Ancient Cities and Langhorne Slim).
Advance tickets are now on sale for Moo & Brew. General admission tickets, which are $45, grant you admission to the event and unlimited sampling from 2 p.m. to 6 p.m. The festival is also again offering VIP tickets for $55, which allow you to come in at 12:30 p.m. and also a chance to try special, limited release beers from the breweries. Tickets can be purchased here.
Look for more in-depth previews on each of these festivals as the dates draw closer.