Development Forced It Out of Charlotte, But Backstage Vintage Still Dresses the City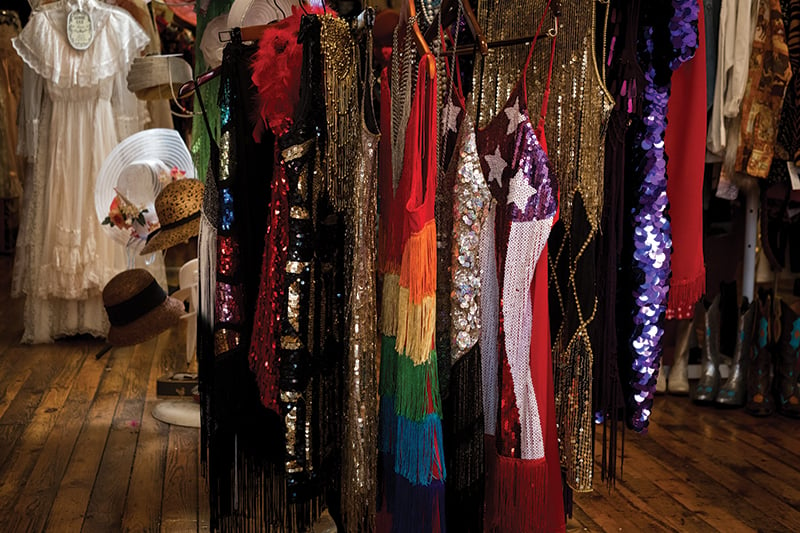 A black-and-pink, zebra-striped awning marks the entrance to Monroe's Backstage Vintage shop. In the display window, a life-size cardboard cutout of Elvis stands next to a replica of the rock star's iconic white jumpsuit.
Inside, owner Judi Craycraft, whom I first met in 2015, greets me with her arms outstretched. "Welcome to the new, improved Backstage," she says, grinning. She's standing between a rack of sparkly flapper girl costumes—with matching feather boas, beads, and bowler hats—and one full of 1970s prairie dresses. "This is an upgrade, right?"
In July, Backstage Vintage, which sells and rents vintage clothing and accessories, celebrated its three-year anniversary in its new location in Monroe. Prior to moving to the historic downtown district—its 1875, two-story building on the corner of Main and Windsor was once a boardinghouse—Backstage called Plaza Midwood home.
Between 2011 and 2015, the shop shared a building with Tommy's Pub on Central Avenue, the same one that local residents tried to keep from being demolished in 2015. The building wasn't saved, and a local developer built a 97-unit apartment complex in its place. About a month before Craycraft moved her store, she told me, "I'm not going to sit here and wait for the wrecking ball to come through the window."
Craycraft had wanted to keep Backstage in city limits, but couldn't find another location she could afford. When Charlotte's cost pushed the store out, Monroe, where she's lived since 2000, pulled her in: They offered her two grants to help with Backstage's move and improve the store's exterior. "They had to have a city council meeting to approve the awning," she says proudly.
Now, the shop owner talks—well, almost—fondly of her time in Plaza Midwood. "It was a zoo over there," she says as she shows me around. "It never got boring." The shop is twice the space of her former location—large enough now for photography shoots and a spacious dressing area splashed with purple paint. (With dramatic lighting and plenty of plush seating, Craycraft calls the space a "dressing experience.") Stopping at a rack filled with shimmery gowns a la The Supremes, Craycraft pulls out a size 4X sequined dress for me to inspect more closely. "The drag queens on Central Avenue from Snug Harbor, they loved these," she says. "Somebody once reviewed us as 'a drag queen's dream,' and on Central Avenue, it was."
The shop still has clothing from every decade of the 20th century—plus miscellaneous goods, including a 1918 record player with a crank to play music, a 1901 candlestick telephone, and even a 1950s gold-plated Tums container. "This is not a costume shop that has bags of polyester and plastic," says Craycraft, who fell in love with costumery during her 27 years with the Richmond Symphony Orchestra. "This is real stuff." In addition to helping dress themed partygoers, the store also rents to performing arts groups.
A city girl at heart, Craycraft admits life is certainly slower in Monroe. But thanks to good customer service and the internet, Backstage has become something of a destination retailer, drawing customers from Charlotte, Greenville, Columbia, and beyond. She even has a regular client who comes up twice a year from Florida to purchase her original steampunk hat designs. (Her latest is peacock-themed.)
Although she doesn't make the 45-minute drive north often anymore, Craycraft says she misses city life. On her last trek to Plaza Midwood, she recalls, "We stopped at the Shell gas station on Central Avenue, and I looked over where my store used to be and got all 'boohoo.' Then I came home, and it's better. It's like happiness in your own backyard."
---
IF YOU GO
Backstage Vintage
100 N. Main St., Monroe
704-207-6236
Wednesday-Friday, 10:30 a.m.-5 p.m.; Saturday,
10:30 a.m.-4 p.m.