Diamonds Are A Girl's Best Friend
How to take care of your engagement ring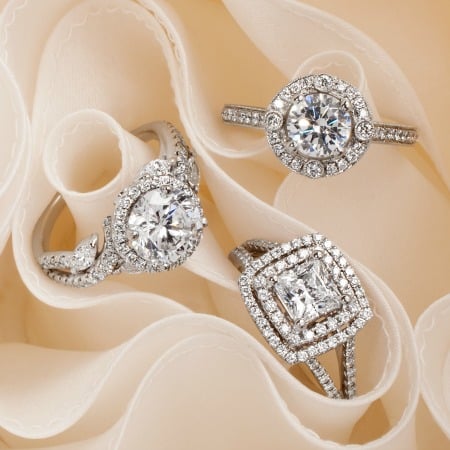 Despite the fact that diamonds are the hardest material on the planet, it doesn't mean the one on your left hand can withstand the roughest treatment. Your rock is susceptible to scratches and even chips. Since this single piece of jewelry represents the beginning of forever with the love of your life, it's important to treat it like a tangible symbol of just that. Aside from insuring your ring, there are more than a few other crucial steps to ensuring the diamond you have right now you'll have forever.
Clean Sweep
Donning a ring that's rarely removed from your finger, the buildup of dirt on its surface is unsurprising. That said, routine cleaning is essential to maintaining its original sparkly luster. This can be as simple as soaking the ring in a dish of Windex overnight, then brushing it lightly with a toothbrush in the morning (paying special attention to the diamond's backside). Don't use any chlorine-based solutions–they can erode the metal setting. **Keep this in mind while cleaning the household as well. Wipe down with a lint-free cloth.This should be done 1-2 times a week. Once a year, your ring should be professionally cleaned. Take it the shop from which it was purchased, if local, or take it to any jewelry store.
Work It
Leave your ring behind before hitting the gym or doing labor-intensive activities. Ornate settings are too fragile to withstand recurrent stress. With lose prongs, you run the risk of your stone falling out of the setting. Just be sure to always put your ring in your designated safe spot at home. This habit is essential.
Stow Away
Make sure you have a secure space for storing your ring. It should be stored separate from other jewelry to avoid surface scratches. A fabric-lined box or in its own fabric-lined divider within a larger case. Never place your ring haphazardly anywhere. The side of sink or the edge of a counter will simply be asking for disaster.
Jetsetter
When traveling on vacation, you should consider leaving your ring behind. Depending upon the destination, you may be putting yourself at risk for robbery. Should you take it along, be sure to turn your stone to the inside of your hand when trekking through unsafe neighborhoods. Also make sure your hotel room has a safe for storing your ring during the trip.
Basic Instinct
Get in the habit of checking your diamond. Press gently on the prongs of the setting sporadically. Should a prong feel even slightly lose, remove the ring and don't wear it until you can pop into a local jewelry store and have it checked. Remember, it's always better to be safe than to be sorry.