Dining out: Strawberry Dishes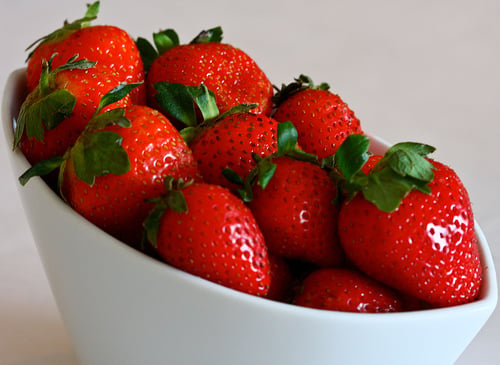 It's strawberry season. Which means it's the season for strawberry pies, strawberry milkshakes, strawberry cheesecakes, strawberry tarts… you get the point. I can imagine you're probably trying to figure out how to navigate the city's restaurant scene for the next few weeks to ensure maximum strawberry enjoyment. So, I've decided to help. Here are some of the top strawberry dishes around town you should be trying—all in the name of eating seasonally, of course.
Ice Cream Float with a Strawberry Lambic at The Liberty: This tasty twist on the old-fashioned American favorite features creamy ice cream drenched in a sweet strawberry beer and topped with fresh strawberries.
Strawberry French Toast at The Gallery restaurant: It's sliced fresh strawberries and whipped strawberry cream cheese on top of challah bread dipped in French toast batter, smothered in crushed cornflakes, fried, and then topped with warm maple syrup. Yeah. It's just as good as it sounds.
Strawberry Cheesecake at Crave Dessert Bar: Rich cheesecake swirled with strawberry cream on top of a graham cracker crust, then drizzled with a strawberry glaze. Order one to share.
Strawberry Shortcake at Dish: This fresh shortbread with sweet strawberries and whipped cream tastes just as homegrown and summery as you'd imagine coming from this Plaza Midwood favorite .
And finally, all Charlotte locations of Mama Ricotta's and Cantina 1511 will be serving specialty strawberry desserts throughout May. Here's what you'll find, according to their press release:
Week 1 (April 26 through May 2)
Strawberry Shortcake: Shortbread biscuit studded with sweet dried strawberries and filled with white chocolate mousse and Grand Marnier-macerated local strawberries

Week 2 (May 3 through 9)
Strawberry Mascarpone Tart: Chocolate cookie crust filled with mascarpone cream and topped with local macerated strawberries and balsamic drizzle
Week 3 (May 10 through 16)
Strawberry and Cream Cheese Galette served with strawberry sorbet: Free form pie filled with cream cheese and local strawberries, topped with house-spun strawberry sorbet and vanilla bean anglaise
Week 4 (May 17 through 23)
Strawberry & Nutella Crepes: Freshly made crepes filled with strawberries and drizzled with Nutella, served with whipped cream