Dinner Party Decisions
Chef Alyssa Gorelick offers tips for a fun, relaxed evening for the guests and the host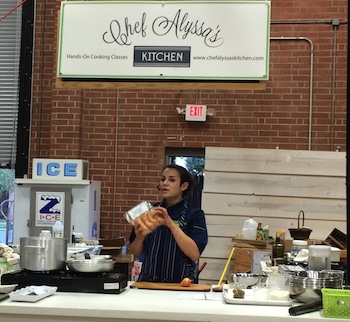 Chef Alyssa Gorelick often cooks in front of people. Her business, Chef Alyssa's Kitchen, involves demonstrating recipes and culinary techniques to students who then do their best to replicate her actions. She looks at ease and confident. Years of experience cooking in upscale restaurants, a couple of appearances at the James Beard House, and regular segments on local TV shows have created that comfort zone. But for those of us who throw the occasional dinner party, especially around the holidays, a house full of hungry guests (who often end up standing around you in the kitchen while you work) can be intimidating. Gorelick shares some tips for throwing a stress-free dinner party with creative dishes that are sure to impress.
1. Focus on the main course. Choose something you can prepare early and set aside to cook for a while, such as a roast. Side dishes, such as roasted vegetables, don't have to be "super hot out of the oven," Gorelick says. Soup can be made ahead and put in a Crock-Pot to keep warm.
2. Switch up the ordinary. Winter farmers markets offer variety beyond your basic root vegetables. Rainbow carrots, tricolor sweet potatoes, or different varieties of broccoli can add interest to a common dish you've made for years.
3. Use aromatics. Garlic, thyme, and rosemary are seasonally appropriate and permeate your house with delicious aromas. Gorelick doesn't add a lot of cream or heavy ingredients; instead she prefers to roast root vegetables with herbs to deepen their flavors.
4. Don't overdo it. "With the season, it can be easy to overpower the spices and sweetness," Gorelick says. "You don't want entrees to end up like desserts." One of her favorite combinations this time of year is apples, onions, and winter squash.
5. Make main dishes miniatures. "A lot of people struggle with what appetizers or cocktails to make," Gorelick says. "But any dish that you really like can be made into an appetizer." Many kitchen supply stores or even craft stores stock mini jars, bowls, and cups that offer inspiration. Use bamboo picks for skewers, espresso cups for soup, or shot glasses for dessert.
6. Complement with cocktails. Many cocktails are too sweet to pair with food, so opt for an herb simple syrup (with rosemary or sage) or a shrub that uses vinegar for a tart taste. "A drink that is a little bit acidic, such as one with ginger or lemon, won't coat your palate, but cleanses it a little bit" Gorelick says. "In between tasting a variety of foods, it will enhance all of the flavors."
7. Make it interactive. Self-serve stations give guests options and make things easier on the cook. Lettuce wraps with different accompaniments or build-your-own sliders are a couple of theme ideas. You can grate cheese, chop vegetables, and slice bread beforehand, so all you have to worry about come party time is preparing the protein.