Dinner, Party of Eight
Cozy up at home this winter with this savory—and easy—Carolina-meets-Europe dinner party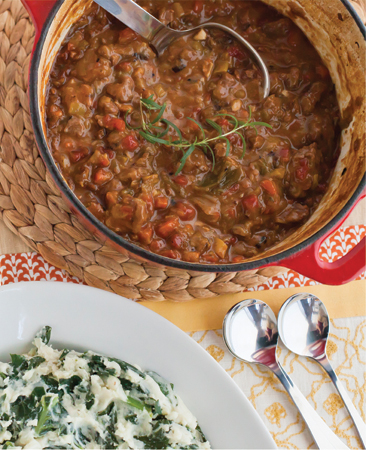 Gathering a group of friends together for a fabulous dinner might be easiest in a restaurant, but there's also something to be said for the comfort of home. With a good strategy, preparing a restaurant-quality dinner in your own kitchen is within reach. Most of this menu can be prepared ahead of time, leaving you free to welcome guests. Dessert does need attention just before serving (all warm and gooey)—but it's easily made while your kind guests help with the dishes.
Beef Daube (French Beef Stew)
Called a daube in reference to the pot the stew is traditionally made in (a daubiere), this is a lush, rich beef stew that is fabulous with mashed potatoes or, better yet, Irish colcannon. It is easy to make, very forgiving, and waits patiently in a low oven.
5 pounds lean stewing beef, cubed
2 tablespoons olive oil, plus more if the
pan gets dry
4 leeks, washed, trimmed, and chopped
2 stalks celery, trimmed and chopped
1 medium carrot, peeled and chopped
1 head garlic (about 10 cloves), peeled,
minced, or pressed
1 bottle dry white wine
2 cups beef stock (canned or homemade)
1 can chopped tomatoes, juice and all
1 tablespoon tomato paste
1 bouquet garni (bunch of fresh herbs—such
as parsley, thyme, bay leaf—tied together
with butcher's twine)
1 12- to 18-inch piece of orange zest, or
2 tablespoons chopped zest
2 cups chopped green olives (whichever kind
you like to eat)
(1) Heat the oven to 300 degrees F. Set a large sauté pan over medium-high heat. Add in 2 tablespoons olive oil and brown the meat, in batches. Do not crowd the meat into the pan or it will steam rather than brown. Move browned (not cooked) meat to a plate to reserve and collect juices.
(2) Add in the chopped leeks, celery, carrot, and garlic into the same pan and sauté for two minutes. Pour in the entire bottle of wine, the chopped tomatoes, and the beef stock. Bring just to a simmer.
(3) Assemble the stew: Place the browned beef chunks and all their juices in a very large Dutch oven or lidded casserole dish. Pour in the wine–beef stock–vegetable mixture and tomato paste, then snuggle in the bouquet garni and the orange zest. Stir, cover tightly, and then place into the oven and braise gently for 2 hours.
(4) After 2 hours, ladle out 1 cup of stew stock and place in the refrigerator to cool to room temp, then shake in a jar with 1/4 cup flour. Pour this back into the pot and braise for 1 more hour.
Garnish with chopped olives. Serve with a scoop of colcannon (see below). Serves 8-10.
Carolina Colcannon
Traditionally, this Irish staple is made of mashed potatoes and cabbage or kale—which, when cooked together, produces some sort of culinary magic, turning ardent cabbage haters into peaceful calciferous vegetable lovers. We've tweaked the Irish recipe just a bit by substituting collards for cabbage, making this a Carolina colcannon.
4 pounds baking potatoes, peeled and cut
into large chunks
1 bunch fresh collards, stems removed, leaves
chopped (about 4 cups chopped)
2 leeks, white and tender green parts only,
washed well and chopped
1 stick butter
1 cup milk
Sea salt to taste
(1) Pile the potato chunks into a large pot and cover with cold water by 2 inches. Add in 2 tablespoons sea salt, cover and set over medium-high heat. Bring to a boil, then begin timing and boil 10-15 minutes, until potatoes are tender. Drain well in a colander.
(2) Place a small saucepan over medium-low heat and pour in the milk and 4 tablespoons butter to gently heat until melted, then hold on low heat. Place the empty potato pot back on the stove; place 1 tablespoon butter in and turn the heat to medium or medium-low. When the butter has melted and is frothy, add in the collards and leeks; cover and cook, stirring regularly, for 4 minutes, until the collards are tender but still dark green and the leeks are soft. Adjust heat higher or lower if necessary. Season with 1/2 teaspoon sea salt.
(3) Pile the cooked potatoes into the pot with the collards and leeks and pour in the warm milk-butter mixture. Mash with a potato masher, and taste and adjust seasoning with sea salt if needed. Scoop the colcannon into large serving bowl and nestle in the remaining 3 tablespoons butter to melt. This can be served at once, or made up to 1 hour before and held in a large, covered pot that is set over a larger pot of hot water.
Serves 8
Individual Chocolate-Caramel Lava Cakes
The beauty of these cakes belies their simplicity. Soft, bittersweet chocolate cake yields a gooey caramel center that oozes golden and sweet. The white chocolate complements the cakes both in color and flavor.
White Chocolate Sauce
2 1/2 ounces white chocolate bar broken
into pieces (or chips)
1/3 cup heavy cream
1/4 teaspoon vanilla extract
Place the chocolate pieces and cream into a microwave-safe bowl and microwave on full power for 1 minute. Remove and whisk to melt the chocolate in the hot cream. Add the vanilla, whisk, and set aside in the refrigerator until ready to use.
Chocolate-Caramel Lava Cakes
4 ounces bittersweet baking chocolate
broken into pieces, or chips
1 stick butter, sliced into pats
1/4 teaspoon instant decaf coffee
2 whole eggs
2 egg yolks
1/4 cup powdered sugar
1/4 cup cake flour
8 candy caramels
(1) Heat oven to 400 degrees F. Spray a muffin tin liberally with nonstick cooking spray (you will need 8 muffin cups). Place the chocolate pieces and butter pats into a microwave-safe bowl and microwave on full power for 1 minute; remove and whisk in instant coffee—keep whisking until the chocolate melts and the mixture is smooth. Set aside.
(2) Using a hand mixer, beat the eggs, egg yolks, and sugar together for 2 minutes on low, then 2 minutes on medium, until frothy and light in color. Add in the flour and chocolate and beat until just combined—do not overmix.
(3) Pour chocolate batter into the prepared muffin tin (filling each of the 8 cups to 2/3). Place 1 caramel in the center of each chocolate cake (it will sink into the center once it begins to bake). Place in the heated oven and bake for 10 minutes if using convection or 15 minutes if using a traditional oven. Remove from the oven and allow to cool for 5 minutes, then pop out the cakes and plate up: drizzle a puddle of white chocolate sauce on each plate and place a cake, upside down, on top. Serve at once.
Serves 8